Where To Stay In Koh Lanta Thailand: Crown Lanta Resort Review
Let's go to Koh Lanta, Thailand! This island in the southern region of Thailand boasts amazing natural beauty set in a peaceful and enchanted environment. The island offers both lots to do for those seeking adventures well as a quiet getaway for those visitors looking to relax and lounge. The beaches on Koh Lanta are perfect for romantic couple vacations or families, especially those with small children. Our top pick for where to stay in Koh Lanta, Thailand: The Crown Lanta Resort and Spa. The luxurious accommodations amidst the tropical jungle setting, complete with restaurants and bars as well as a private beach will be sure to make you extend your stay! Those sunsets at the Reggae Bar sure don't disappoint either!
When your family, who is visiting from outside the country tells you that their favorite and most memorable aspect of Thailand was the stay at Crown Lanta Resort, that says something. My family is not easily impressed, and you may even call them "high maintenance" at times, so for them to enjoy this resort so much speaks volumes for the accommodations and amenities provided here. Keep reading for the full details on why we think this is
Koh Lanta's best place to stay
and when is the
best time to visit Thailand
.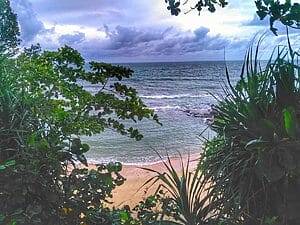 Why This Is Where To Stay In Koh Lanta
Koh Lanta is an island that doesn't require a lot of effort to get to when compared to other ones in Thailand. Just a two-hour shuttle ride from Krabi Airport and you're ready to sip on mojitos poolside.  To get to the resort, a shuttle can easily and economically be arranged at one of the kiosks at the airport. We were a group of six and fit very comfortably (even with all of the luggage) in a large, air-conditioned van that cost only 2,600 THB (about $75 USD).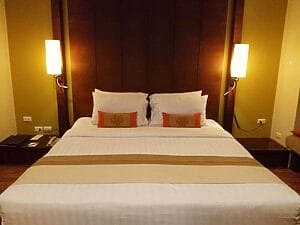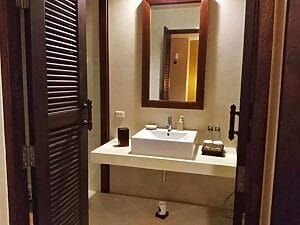 The Crown Lanta Resort is tucked away on its own slice of the island near the northernmost part. The lush, jungle landscape is dotted with the resort's buildings containing luxurious guest lodging. Our room was poolside while my family had a room with direct access to another pool from their terrace in the back of the room. Both room types had their own beauty and benefit. Our favorite part of the location of our room was it's proximity to the private beach and resort spa. You can say we like to be pampered. Oh, and did I mention one of their restaurants was right by our room as well? Yes, having access to food is a plus for us, too!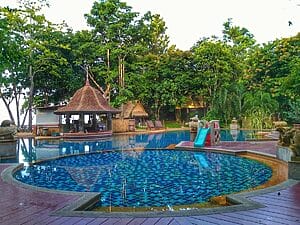 Needless to say, you don't need to exert a lot of effort or energy when staying at the Crown Lanta Resort. We only left the resort for a couple of hours one day just to see what was in town. Other than that we never felt the need (or the desire) to leave the heavenly accommodations we had for three days!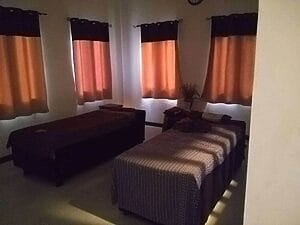 Our Top Reasons Why This Is Koh Lanta's Best Place To Stay:
Great selection of food for breakfast.
Several restaurants to choose from as well as poolside bar
Incredible sunset views from the bar
On-site spa
Private and public beach access
Best Way To Get From Krabi To Koh Lanta: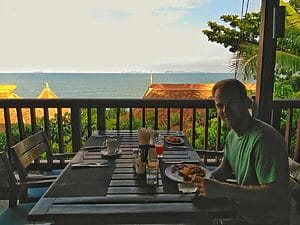 I would recommend any type of guest at this resort. I can see a small work retreat for a startup taking place in this beautiful setting because it promotes productivity and inspiration. Additionally, couples looking for a romantic getaway will surely enjoy the peace and tranquility of Crown Lanta Resort with its great amenities like the spa and restaurants, along with some great adventures that can be had in Koh Lanta.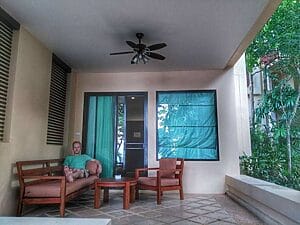 I know that this hotel is perfect for a small family reunion as well since this trip turned out to be just that for us. The rooms are super spacious which allows for people to join you occasionally without feeling claustrophobic. This is also helpful if you have large pieces of luggage and you don't want to keep tripping over everything in the room. The day bed was a great added bonus for having a third person sleep comfortably in the room without needing to add another bed that would take up a lot of room.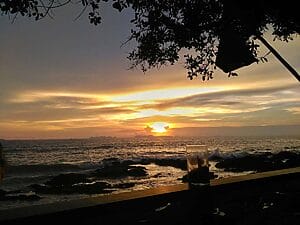 Check for availability and pricing here or visit their website: https://www.crownlanta.com


Rain Season Could Be The Best Time To Go To Koh Lanta
You heard it right! We visited the island in Thailand's rainy season, and it was a blast! Here are some great things you can expect if you visit during this time:
Lush greenery everywhere you go – the best time to be out in nature
Fewer people at the pool (you might even have it all to yourself!)
Quieter and less crowded tourist hotspots
Lower prices for accommodations
Ease of planning last minute activities without worrying about them being sold out
Less chance of getting sunburned
Better experience at the night markets (sometimes you can bargain easier)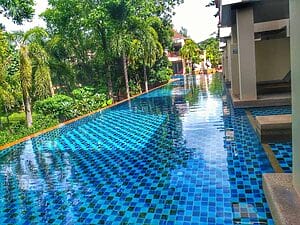 I should say that there is a downside to visiting in the rainy season. Due to storms, the snorkeling and boat tours shut down. We had been to Koh Lanta in December and experienced snorkeling at Koh Rok. It was a memorable activity for us and we wished that our family could have done it when they came in June. However, the speedboat tours are not offered at this time.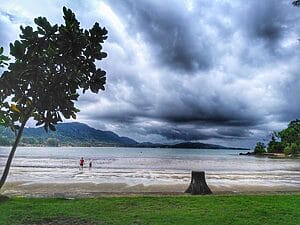 As I said before, my entire family (6 people total) loved their stay at Crown Lanta Resort. They raved about how much fun they had even a week after our return to Chiang Mai. To have had the experience of staying in such a flawless place really enhanced out time together. We were able to focus on sharing stories from the past and making memories to talk about in our future. The videos and photos that we shared with our family and friends had so much impact that they inspired them to make plans to visit Thailand!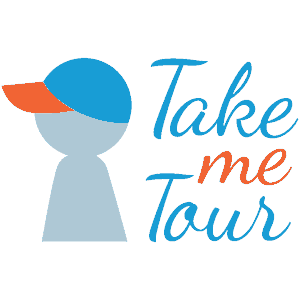 Here Are Some More Places To Stay In Thailand:
Looking For Thailand Adventures? Check Out These Articles:
Ziplining In The Chiang Mai Jungles
Chiang Mai Agricultural Bicylcle Tour And Pic Nic
Pin It!
About the Author
Hi! I'm just a California girl addicted to travel and adventure with a passion for art and dance on the side. Born in Iran, but I consider myself a citizen of Earth, adhering to the belief that "The world is but one country and mankind its citizen." I strive to make a positive impact on everyone I meet and learn as much as possible from them. My degree out of college is in Marketing. However, I entered the hospitality business at an early age and worked my way up to hotel management. After about 13 years in that industry (5 of which I was a hotel assistant manager), I made the decision to move to Thailand and leave the 9 to 5 grind behind. My husband and I set off for a life of living abroad and hopes to continue traveling the world, just 3 months after our wedding. It all started with the two of us, along with our cat, together in Thailand. Can't wait to see where life takes us next!