Krabi Hotel – Ao Nang Cliff Beach Resort Review
We've got the scoop on one of the best places to stay when visiting Ao Nang in Krabi, Thailand. Ao Nang Cliff Beach Resort is our top recommendation because they offer some incredible accommodations. We'll give you all the details on this phenomenal hotel in Krabi to help anyone who is trying to choose where they want to stay on their next visit to Thailand.
On our recent visit to Krabi, we were able to stay in Ao Nang for a couple of days. This was our first trip there and has now become our favorite spot in Southern Thailand. This new favorite of ours owes its appeal partly to the accommodations we had while visiting. It can be difficult for visitors who have never been to Ao Nang to determine the right place to stay, but we hope to help in the decision making by giving you all the details on our stay in this article. Keep reading to see why we had such a great time in Ao Nang.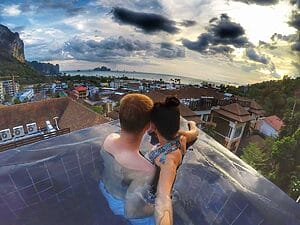 Whether you want to stay close to the beach and walk to all the shops and restaurants or you want a place away from the hustle and bustle, the Ao Nang Cliff Beach Resort will lend itself to a quiet, relaxing and most enjoyable respite.
How can a place in the heart of the tourist Ao Nang Beach area also provide a tranquil setting that makes you feel far away from the crowds and activity of the town? By placing the resort snug against the cliff-side, guests can enjoy the peacefully elevated property that also gives them direct access to the main street.
Ao Nang Cliff Beach Resort Review
Our favorite part of the stay at Ao Nang Cliff Beach were the views. It's hard to miss the gorgeous views from a hotel that is perched up on the hill overlooking one of the most picturesque places on our planet.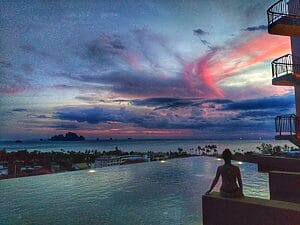 With views like this, it made it hard to choose what to do each day. Our dilemma each day seemed to be whether we should stay in the room and take in the scenery from our balcony tub, swim in the infinity pool built on the side of the cliff, or walk five minutes to the Ao Nang Beach? Life was tough for us here, right?!
As soon as we arrived on our floor, we walked past the infinity pool and knew that it had to be our first stop after dropping off our bags in the room!
Krabi Accommodations With Incredible Views
The king room we had for our two-night stay in Ao Nang was absolutely perfect. The very spacious room provided a relaxing night's sleep along with an open and bright space to do some work on our laptops for a couple of hours.
The modern, minimalist decor added to the open feel of the room along with having glass separate the bathroom instead of a wall. We were equally impressed by the beautifully done bathroom interior.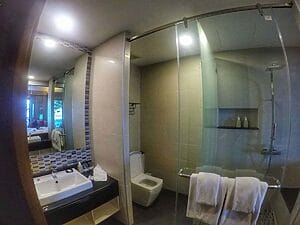 Having a small fridge and teakettle always adds a nice touch to any hotel accommodation. You never know when they will be used, but when you need it, it's a great feeling to know you have it in the room!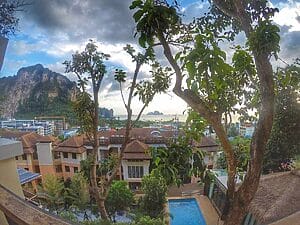 The views from our room (located in the Panorama Building) were breathtaking. On top of having the incredible scene from the balcony, they provide you with a tub to soak in while you "soak it all in." (you like how I did that?).
Resort Amenities To Take Advantage Of
Seafood BBQ Buffet – This was for sure our second favorite thing during our stay at Ao Nang Cliff Beach Resort. Those walking past the front entrance of the hotel are presented with the display of fresh seafood and the grilling that takes place on a nightly basis.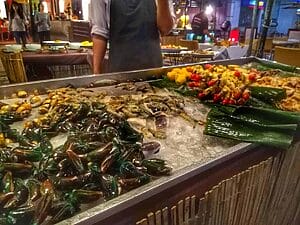 If the smell of this delicious barbecue isn't enough to get their mouth watering, there are multiple arrangements of everything from sushi to a plethora of vegetables, salads, soups and desserts taking up most of the front of the hotel. The Seafood BBQ Buffet is not to be missed (anyone in Ao Nang, even non-hotel guests should try it!)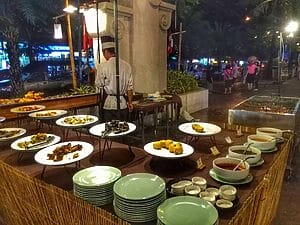 Spa – The hotel has a spa on property that, though a bit tricky to locate, is convenient for those who may be looking for some extra pampering. We took advantage of the Thai Herbal and Indian Head massages. This was a first for both of us on these types of massages, and we were unsure of what to expect.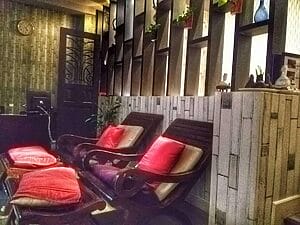 The treatment room was very nicely done, with an added bonus that surprised us both. They placed a bowl of small fish swimming in water right under the opening of the massage bed! I thought this was the coolest thing! It certainly added to the calm and relaxation of the spa treatments.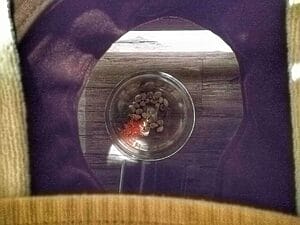 Restaurants – Pano Cafe for breakfast, Pano Pool Bar for some poolside adult beverages, Orchid Pool Bar and Bistro for a nice lunch before heading out, and Andamana Beach Restaurant for a half day at the private beach. (We never got a chance to check out The Peak Bar Restaurant, but looks like a romantic sunset dinner would be great here!)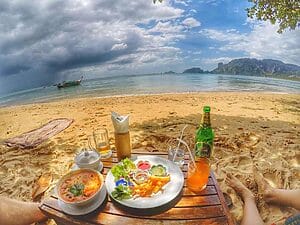 Service 
Having been a hotel manager, I can't help but focus on the cleanliness and service of anywhere I choose to stay. Ao Nang Cliff Beach Resort withstood my critical surveillance. As far as cleanliness, they were top notch in all areas. I appreciated the friendliness of the staff.
However, the only improvement I would suggest would be better communication between the employees to help things run more smoothly for the guests. There were a couple of instances when things were scheduled, but we had to double-check and re-schedule because the information was never passed along. I must say, though, that the bellmen were exceptionally helpful and kind.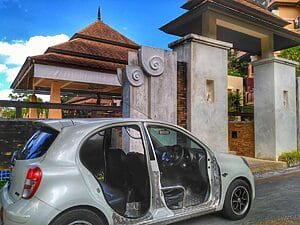 Final Thoughts On Our Ao NangCliff Beach Stay
Our stay in this Krabi hotel was quite memorable. So much so that I keep telling everyone that it was like a second honeymoon for us!
It's no exaggeration to say that staying at this resort really gives you the best of everything. For anyone looking for accommodations near Ao Nang Beach, this would be our top recommendation. Everything, from the food to the room, was top notch, in our opinion.
Take a tour with us:
Being so close to the beach and the main road made it so convenient to enjoy everything we wanted to do during our short visit to Ao Nang. We were able to easily take part in the nightlife as well as daytime activities, such as visiting Railay Beach.
The convenient location and plenitude of offerings right on the property make it a great place to stay even if you are in Ao Nang, Thailand for a short period. Be warned, though; it may make you want to extend you time in Krabi!
Check Availability Below
Take a look at some of our other favorite resorts in Thailand:
We also recommend this Thailand Travel Guide
Disclaimer: We were guests of Ao Nang Cliff Beach Resort for this experience. The views and opinions expressed on this website are purely those of the authors. If we claim or appear to be experts on a certain topic or product or service area, we will only endorse products or services that we believe, based on our expertise, are worthy of such endorsement.
About the Author
Hi! I'm just a California girl addicted to travel and adventure with a passion for art and dance on the side. Born in Iran, but I consider myself a citizen of Earth, adhering to the belief that "The world is but one country and mankind its citizen." I strive to make a positive impact on everyone I meet and learn as much as possible from them. My degree out of college is in Marketing. However, I entered the hospitality business at an early age and worked my way up to hotel management. After about 13 years in that industry (5 of which I was a hotel assistant manager), I made the decision to move to Thailand and leave the 9 to 5 grind behind. My husband and I set off for a life of living abroad and hopes to continue traveling the world, just 3 months after our wedding. It all started with the two of us, along with our cat, together in Thailand. Can't wait to see where life takes us next!