Zipline In Chiang Mai – Flight Of The Gibbon Experience
Ziplining may not be the first thing that comes to mind when planning your trip in Thailand, but to zip line in Chiang Mai is one of the best experiences you can have. The lush jungles on the outskirts of the city provide an excellent setting to take flight and go from tree to tree just like the gibbons that have made it their home. Flight Of The Gibbon is a great company to take the zipline tour with as they provide excellent service and safety.



Are you ready for some adventure? Do you want to experience something totally different in Chiang Mai? Do You like being in the heart of nature? Well, spending the day zip lining will definitely satisfy these needs. You're scared of heights, you say? That's not a problem. Honestly, I think everyone is. For a good reason, too. I mean it's a natural emotion that is there to keep us safe, right?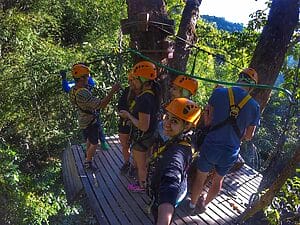 Everyone I've ever zip lined with has initially had this issue. Would you believe me if I told you that it just turns into adrenaline and excitement after that first line?
I've experienced zip lining four times now and can tell you it's an absolute blast. There's not much required, usually. You don't have to be particularly athletic or anything like that. Just about anyone can do it. The key is picking the right company to experience it with. Making sure they are reputable and safe, as well as having staff that is caring and vigilant. My experience with Flight Of The Gibbon Zipline in Chiang Mai was exactly that.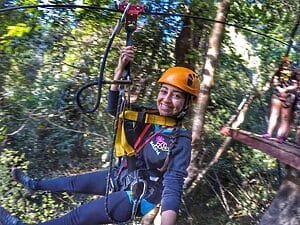 If you want to zipline in Chiang Mai, Flight Of The Gibbon is my recommendation for you. I'll share my experience below so you can see exactly why.
Tips On How To Prepare For Ziplining
There are some simple things you can do to get ready to zipline and ensure the best experience for yourself. If this is your first time zip lining here are some of my suggestions and tips:
Listen To Instructions – You'll be given exact instructions at the beginning of the tour so pay attention. There's nothing complicated, but doing things the right way will keep you (and others) from getting hurt.
Wear comfortable clothing – You will be geared up with a harness that goes around your upper legs and shoulders. To prevent any discomfort that may be caused by the harness, wear a shirt with sleeves and long shorts or sweatpants. Workout clothes are good for this type of activity. You want to have something on that you can easily move in.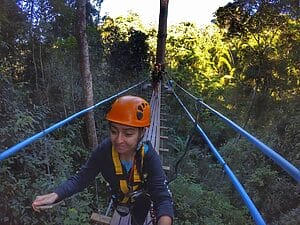 Wear appropriate shoes – Since you'll be spending your time hanging and on top of trees, you will want to have shoes on that don't slip off easily. While you can wear sandals with straps, I would recommend shoes that cover and protect your feet in case you accidentally bump them on something. I wore my Sketchers (I wear them everywhere). Sometimes there is a little bit of hiking and climbing involved so tennis shoes would be the best. Putting on some sunblock and bug spray is also a good idea.
Keep your hands free – Don't take anything with you or have anything hanging off of you that may interfere with your comfort and safety. You would not want to have something on that would get stuck to anything around you or prevent you from being able to use your hands freely. Additionally, you don't want to take anything along that may fall and get lost! I put my phone in the waterproof case by Kobert.
Keep your hair out of the way – If you have long hair, I would recommend you braid it.
Have Fun – Just go for it! That first leap might seem a bit unnatural and awkward, but you'll get over it. Make sure to look around as you zip down, take in all the nature around you!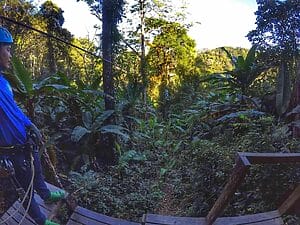 Flight Of The Gibbon Zipline Itinerary
The Flight Of The Gibbon zip line tour is very well organized and all-inclusive, so it's a great value. Here's a quick description of our day with them to give you an idea of how it goes.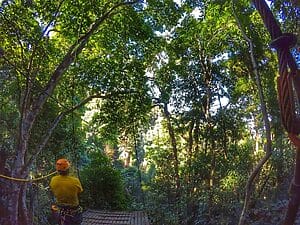 We were picked up from our location in Chiang Mai at about 6:30 am. There were a few other people that we picked up along the way before we headed out of the city. The van was quite comfortable and accommodated the eight of us nicely.
The one hour drive to the jungle was very pleasant. There's some great scenery along the way as you get into San Kamphaeng area. As the van makes it's way up the hill; there are lots of turns. Before reaching the zipline area, you'll have a chance to see some of the homes of locals living in the "country" along with agricultural fields, making it a very green and scenic route.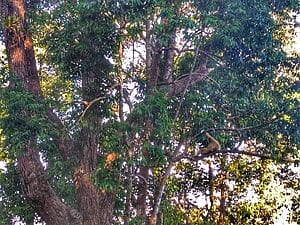 We arrived at about 8 am and after signing the release waiver we were geared up properly (they provide lockers with locks for you to store your items in) and headed into the jungle (make sure to use the bathroom if needed at this point). Before our short hike, we were given instructions of
how to zipline
. The two "sky Rangers," or guides, gave us the details on our hand and feet placement and how to position our body for best results.
Before going on the first zipline we had a short hike up and had a chance to take a little water break and rest. After our first few short lines and some very cool sky bridges, we stopped to see a female gibbon up in the trees. It was a beautiful sight to see this creature in its natural environment. Did you know they were introduced to this jungle by Flight Of The Gibbon?
Zipline Variety Fun
After seeing the gibbon, we got to zipline the longest line in the canopy. The 800-meter long line was the best part for me. Going over the forest canopy on a long zipline gives you a chance to really look around and get that feeling of flying before you get to the other side. It was SO much fun!
Along with additional lines, we also went down spiral staircases that wrapped around these giant trees. There was also a tree that we were able to get lowered down from on a rope attached to our harness. Another fun and unique experience in the canopy was doing the "Superman." On this line, we were attached to the line from our backs, so it allowed us to jump off with our body staying somewhat horizontal. It was nice having this variation on the zipline experience.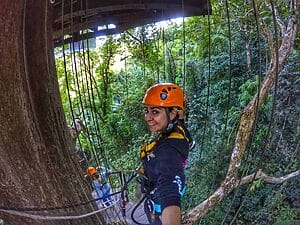 Another added variation was the double line. This allows couples or friends to be attached to two lines that are parallel and running next to each other. This was my first time going together with someone else, and I enjoyed it a lot!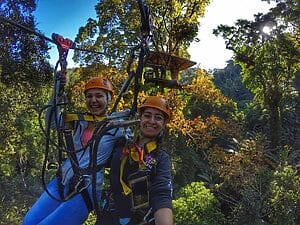 The zipline tour ended next to a creek with a small waterfall. It was the most picturesque ending coming down the tree in the middle of that beautiful nature.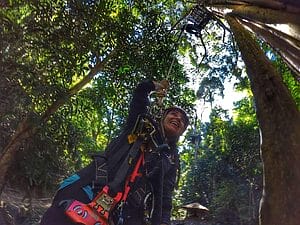 Lunchtime
I was hoping that we would have our lunch at the last zipline and was a bit disappointed when we started walking away. Then, I realized that our lunch location was even better! We were taken to a covered dining room located next to another creek and waterfall. There was even a band playing traditional Thai music while we enjoyed our delicious lunch.
I could have spent the entire afternoon there!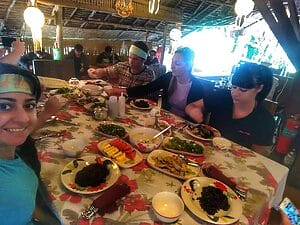 After lunch, we hopped back on the van and drove about 5 minutes to go check out Mae Kamphaeng Waterfall. This is a very tall waterfall that has a bit of a steep hike to get to the top. There are stairs that make the hike a bit easier, and the view is quite peaceful and nice at the top.
Once we all arrived back down from the waterfall, the van started on the journey back to town. Everyone was dropped off at the same location of pickup.


My Zipline Experience In Chiang Mai
I truly enjoyed my zipline tour with this company. The two guides we had were extremely helpful, kind, and sincerely. More importantly, they were good at their job which is to keep everyone safe. The entire time with us, the guides were keeping a careful eye on all of us. At the same time, they managed to be fun to hang out with.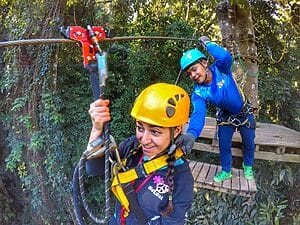 The Rangers constantly checked if each of us were having a good time. They joked and made us laugh. They watched everything extremely closely and seemed to take their jobs very seriously (and they seemed to enjoy it, too!)
This was a huge factor for my impression of the zipline tour. I appreciated their vigilance and sincere hospitality. I also appreciate the fact that this company is environmentally conscious and has made several conservation efforts.
All in all, the forest was beautiful and having the chance to see a gibbon was an added benefit. I would definitely go zip lining here again!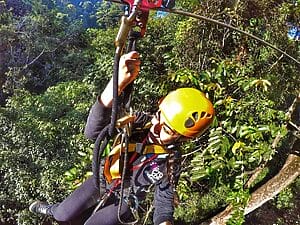 Flight Of The Gibbon Contact
Website: https://www.treetopasia.com/
Thai Phone: 053 010 660
Email: info@treetopasia.com
Pin It!
Disclaimer: We were guests of Flight Of The Gibbon for this zipline experience. The views and opinions expressed on this website are purely those of the authors. If we claim or appear to be experts on a certain topic or product or service area, we will only endorse products or services that we believe, based on our expertise, are worthy of such endorsement.
About the Author
Hi! I'm just a California girl addicted to travel and adventure with a passion for art and dance on the side. Born in Iran, but I consider myself a citizen of Earth, adhering to the belief that "The world is but one country and mankind its citizen." I strive to make a positive impact on everyone I meet and learn as much as possible from them. My degree out of college is in Marketing. However, I entered the hospitality business at an early age and worked my way up to hotel management. After about 13 years in that industry (5 of which I was a hotel assistant manager), I made the decision to move to Thailand and leave the 9 to 5 grind behind. My husband and I set off for a life of living abroad and hopes to continue traveling the world, just 3 months after our wedding. It all started with the two of us, along with our cat, together in Thailand. Can't wait to see where life takes us next!