San Kamphaeng Hot Springs Chiang Mai Visitor Tips
The town of San Kamphaeng, in the Mae On District of Thailand, famously know for their silk is also the location of the closest hot springs to Chiang Mai. About 40 kilometers outside the city, it's quite easy to get to and a nice way to enjoy a relaxed day away from the more touristy areas, like the Old City. We spend a day soaking in the mineral-rich water of the hot springs and want to share our experience with you along with some very helpful tips to make your visit even better.
Why We Didn't Love San Kamphaeng Hot Springs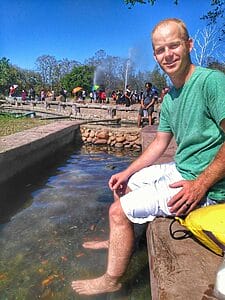 The hot springs near Chiang Mai is a nice getaway from the city and great for those with aching backs or joints. However, we have some suggestions based on our not-so-great experience that we think could have made our day a whole lot better.
First off, we (for what reason is beyond me) decided to go on a Sunday. Now, we have a pretty flexible schedule and could have picked any day of the week to take off and relax at the hot springs, but we chose the day that most locals have off and want to go and do exactly the same thing.
This was a bad idea.
Anyone who wants to visit the hot springs and truly feel relaxed after being there, should NOT go on a Sunday. I imagine Saturday is probably not that great of a day either. If you can avoid going on the weekend, I am willing to bet you will have MUCH MORE of a relaxing time than we did.
While not many foreigners make the hour long motorbike trip to San Kamphaeng Hot Springs, we did see a few small groups of here and there. The crowd consists mainly of local Thais who are out to spend time with their families and friends. This is a great thing, BUT it gets super crowded in the small park where the channels of spring water run.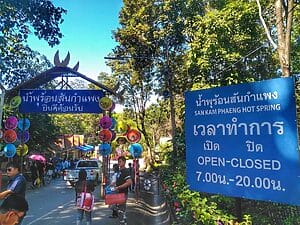 The "winter" (December and January) is the time of year that northern Thailand experiences the best weather and most beautiful days. It's dry and clear out with temperatures around 80 Fahrenheit, creating the perfect conditions for people to go out and about, especially on the weekends.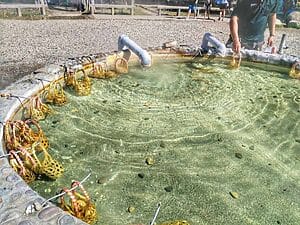 I imagine, in the weather had been a bit cloudy (maybe even a bit of rain) on the day of our visit, it would definitely not have been as crowded. This was really the biggest downside for us. It made it very challenging to find a comfortable, shaded, spot to sit and enjoy our lunch. Even worse, was the fact that the private hot tub rooms were all full so we were unable to go and fully soak ourselves in the mineral water. Additionally, the massage chairs were consistently full, so that wasn't even an option to help us relax.
Getting To The Hot Springs Near Chiang Mai
There are a couple of ways to get to the San Kamphaeng hot springs. Both the north or south route are quite easy and straightforward ways to get there. We took the southern route to go east. Basically, taking the 1141 to 1317 and then making a left on the 4041 that takes you directly to the hot springs. As you can see, there aren't any complicated turns, and there are lots of signs along the way to guide you.
We have rented a motorbike for our time here, so it was an hour drive on our motorbike. I'm sure that a Red Truck (Songthaew) could be hired out for the day for those not wanting to drive on their own. It may be a bit pricey if you have the driver wait for you and take you back. However, you can take the ride one way and then hire another truck to drive you back to the city. Be aware that there are not that many red trucks available at the hot springs. You can also go with a tour company.
Budget For Your Visit
Visiting the San Kamphaeng Hot Springs is a very budget-friendly thing to do for tourists in Chiang Mai. Here is the cost breakdown:
The cost to get into the park area – 100 THB per person.
Parking for motorbikes – 10 THB.
Lunch for two (chicken, sticky rice, papaya salad) – 180 THB
Basket of eggs to boil – 40 THB
Soaking your feet in the channel – free
Pic-nic mat rental – 20 THB
Private room with mineral water bath tub (one hour) – 300 THB
You can have all of the above for just around $20 USD (for two people). This is a great deal for a day of being outdoors and relaxing. If you do get into the private room and soak in the hot tub, you'll come out feeling super relaxed and rejuvenated.
We were only able to take a dip into the public swimming pool (50 THB). It wasn't all that bad. I just don't feel that it was as good as soaking in a tub of mineral water. Furthermore, the water in the pool was not very warm, so it didn't have as much of a soothing effect as I 'd hoped.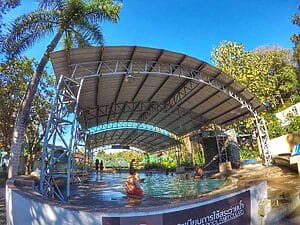 San Kamphaeng Hot Springs Visitor Tips
Here's a list of our suggestions and tips so your trip can be better than ours. We would have probably enjoyed our experience a whole lot more if we had the below tips before our visit.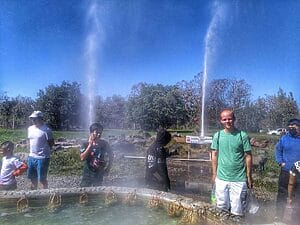 Avoid going on weekends.
Take a mat with you if you own one. There are mats available for rent, but bringing your own will guarantee you have one. (if you have a small pillow, we recommend taking that, too. Taking a nice nap here would b great.
Soak in a tub in one of the private rooms instead of the public pool.
Purchase food once you've entered the park and not from the stalls next to the parking lot. (the quality and options were better inside the park). You can also grab your meal before hand from the many great places for food in Chiang Mai.
Drive a motorbike there. The route is simple and easy and very scenic. It's an enjoyable ride.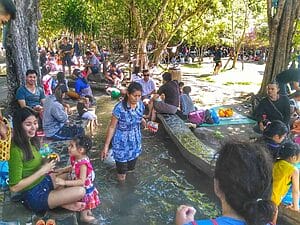 If you enjoy being outdoors, Chiang Mai has lots of great places to go and enjoy nature. We recommend hiking and swimming at the wateralls as well as a day with elephants.
Pin It!
About the Author
Hi! I'm just a California girl addicted to travel and adventure with a passion for art and dance on the side. Born in Iran, but I consider myself a citizen of Earth, adhering to the belief that "The world is but one country and mankind its citizen." I strive to make a positive impact on everyone I meet and learn as much as possible from them. My degree out of college is in Marketing. However, I entered the hospitality business at an early age and worked my way up to hotel management. After about 13 years in that industry (5 of which I was a hotel assistant manager), I made the decision to move to Thailand and leave the 9 to 5 grind behind. My husband and I set off for a life of living abroad and hopes to continue traveling the world, just 3 months after our wedding. It all started with the two of us, along with our cat, together in Thailand. Can't wait to see where life takes us next!