Ethical Elephant Tour In Chiang Mai – No Riding
If you do one thing while visiting Chiang Mai, Thailand, it should be an elephant tour! But make sure it is with an ethical elephant tour company. It breaks my heart to admit that our first time to Chiang Mai included riding elephants. Although the experience was on bareback, it still upsets us that we did it.
Honestly, it was out of ignorance and lack of experience in travel and eco-tourism. When you only have two days in Chiang Mai and all you see are brochures of riding elephants, it just excites you to imagine you can do something so "exotic" and different. We never realized that there was a better, more humane option to spending time with these amazing creatures.
Hopefully, more and more tourists will be better educated when making this decision and can choose not to join the elephant riding tours when in Chiang Mai. Feeding and splashing around with these gentle giants in the waterfall is way more fun, anyway!
Why You Should Choose Elephant Jungle Sanctuary
When choosing a company that provides elephant encounter excursions (or any tour/service, really) you should be looking for those that are ethical, sustainable, responsible, humane, and promote eco-tourism in general. For our second time with elephants in Chiang Mai, we decided to be more conscious of the animal welfare and chose to go with Elephant Jungle Sanctuary. We had heard that these folks are ethical and take great care of the animals, so we wanted to see it for ourselves.
Indeed, this company has provided a beautiful sanctuary for the elephants. It is unfortunate that due to human needs (agriculture, etc) these creatures cannot have the freedom to roam anywhere they like. Rather than being used to provide rides to tourists, it's great that places like this exist to give them a home and, at the same time, allow for human interaction. The elephants here are rescued from bad situations (elephant camps around Chiang Mai that do not practice humane treatment of the animals)where they are abused, chained up, and have limited space and freedom.
At the Elephant Sanctuary, the elephants are well taken cared of and not pushed to "work" long hours that can, literally, break their backs! It's a nice home for them, and hopefully more and more companies will make the switch if they are encouraged to by tourists (tourists can promote the good companies by spending their money with them).
How To Get There
When you book your tour for the Elephant Jungle Sanctuary, you will enjoy transportation and food provided as part of the experience. This really makes it a whole lot more convenient than having to get there on your own. If you're staying at a guest house in Chiang Mai (especially those in the Old City) your hotel can arrange the booking for you. You can also book online directly on their website.
Elephant Jungle Sanctuary Contact Info:
Managed & Operated At Baan Khun Tour & Hostel
119/10 Thapae Rd, Chang Klan, Chiang Mai 50100, Thailand
office Phone: +66-53-273415
Depending on how much time you have in Chiang Mai and how much of it you want to spend hanging out with elephants, you have several choices of tours. They provide half or full day visits. The half day tour is probably the most popular as it allows you to choose either morning or afternoon and still have the rest of the day to go site-seeing or what not.
Additionally, for those that want to get a fuller experience, full day walking tours and over-night options are also offered. These are designed to give you more time to spend with the elephants as well as time to see them in their natural habitat. If you want a more intimate experience, you should probably sign up for one of these options as they are for smaller groups (10 people as compared to 20+ for the half day tours). We will most likely do this another time and sign up for the full day walking tour.
We chose the half day, morning, tour. Our pickup was on time and the ride was smooth through the city. At around 45 minutes into the ride we had a short pit stop to stretch our legs and use the facilities. The gas station we stopped at outside the city was well equipped and clean. There was a bakery with delicious croissants that provided an excellent, quick, breakfast for us. If you happen to forget to bring anything with you, this is a good opportunity to pop into the 7-Eleven and grab whatever you need (see below for our recommendations). It was a nice surprise to us that we had this stop. Being able to grab a bite to eat gave us some energy and warmth in the early morning hour.
Where To Stay In Chiang Mai
How to Prepare For Your Elephant Encounter Experience
You should know that it can be a bit chilly in Chiang Mai during the winter months (December and January). Yes, it's usually pretty warm midday and you are fine just walking around in a T-Shirt and shorts. However, in the early morning hours, you will need a jacket for sure. If you are signed up to take the morning (half or all day) tour, you will most likely get picked up super early in the morning. The trucks used to to transport you to and from the elephant jungle can fit up to 10 people. In all likelihood, you will have several other stops to pick up other folks before heading on the one and half hour ride to the jungle.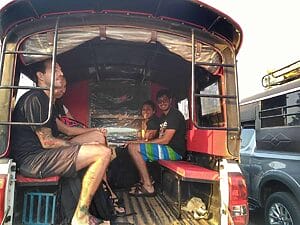 You'll be riding in the cab of a pick-up truck on benches. While the top is covered, the sided may be open or shut. In either case, you'll be feeling the cold morning air during your ride, so take a shawl or jacket (especially during winter). Alternatively, on the ride back, you can also use your jacket to cover yourself for protection against the sun (if you sit towards the back of the cab you can't really avoid it hitting you).
Our Review And Some Recommendations
The Elephant Sanctuary in Chiang Mai did a great job giving us an unforgettable experience interacting with elephants. It's also nice to know that the elephants are being treated with kindness and getting good care.
What to take with you:
pro-tips:
Take your camera with you - They have a photographer at no extra charge, but you can capture your own moments better, especially with a waterproof camera like the GoPro Hero 5. We ran out of memory on our GoPro and really regretted not having it in the river to get some cool up close videos of bathing the elephants.
Dress appropriately - Wear your bathing suit under your regular clothes so that you can easily and quickly change when it's time to get in the mud and river. If you are wearing a bikini, you may want to wear shorts over the bottom. They sell cute elephant pattern board shorts for ladies at the markets in Chiang Mai. It's always a good idea to dress a bit more modestly when in Chiang Mai. We would give this same advice if you are planning to go swimming at any of the waterfalls.
Protect your feet - Water shoes are really great if you have them. If not, you can go barefoot, too. You'll be walking around in the river and mud and may even get a chance to climb the cliff and dive at the waterfall. Having water shoes on made the experience so much more comfortable for us.
What To Expect On During The Elephant Encounter
The ride through the countryside and rolling hills helped set the mood for what was to come on our tour. The amazing greenery and beautiful nature that leads to the Elephant Sanctuary is absolutely magical. The morning fog rolling through made it particularly magical and inviting. The place where the elephants are kept seems tucked away at the edge of civilization. Almost as if this is the place they truly belong. For about 20 minutes of the ride leading to the camp, there was only jungle and even the truck had some difficulty getting through (it's a bit bumpy!).
Upon arrival, the guides greet and give a little speech to the big group. You can, then, put your belongings into a locker and join the elephants. Bananas are given out by the guides for you to feed to the elephants. It's during this time that you can really develop the relationship with the animals. You can see the different personalities and get to know them better. Don't be afraid to get up close and pet them, they are the sweetest creatures!
They can be a bit cheeky at times due to their love of bananas so keep some hidden behind your back or they might grab the whole bunch from you! The guides are there to supervise during this time and even help you get better acquainted with the animals.
This is the time to ask the guides your questions about each individual elephant and get to know a bit about their history and where they are rescued from. Make sure to capture some good shots on your phone or camera. You can also call over the camera man and request him to shoot some one on one photos with you and the elephant of your choosing.
After feeding the elephants, you'll need to change into your swim suites (and water shoes, if you have them). Once you are properly dressed (don't forget to take your waterproof camera, too), you'll meet the elephants down at the mud pit. Here, you'll start giving them their mud treatment. Just have fun with it!
Grab as much mud as you can and just cover the elephants in a nice thick coat. Your fellow humans might appreciate some of this treatment, too. Mud fight! Don't be surprised if the elephants get so relaxed that they start pooping right into the mud! Don't worry, their vegetarian diet poo isn't too stinky!
Once the elephants get a good mud mask on their body, it's time to get it all washed off in the river. The baby elephant that was part of our group couldn't wait for this and wanted to leave the mud bath early!
You and the group will jump into the river with the elephants and start the shower. The guides give out plastic bowls for you to splash on the water with. This is probably our favorite part of the whole experience. How often do you get to splash around water with elephants in such a beautiful natural setting? The elephants seemed to really enjoy this and it was just one bi water-fight! I wish this part could have lasted longer.

Bonus Fun Activities
Once the elephants were done with their shower, they were escorted away and it was time for some freestyle fun. The river where you shower the elephants starts at a very nice waterfall coming out of the surrounding jungle. It's the perfect way to relax or  have some adrenaline infused fun.
Our group was given the opportunity to cliff dive in the waterfall, splash around in the river, or just sit and watch. I think almost everyone in our group, including small children, took the opportunity to jump from the cliff. It was no easy task getting to the part of the cliff where it was safe to jump. The guides are there watching, but someone could easily hurt themselves if they slip even slightly.
Admittedly, I was one of the last people to try this. I didn't plan on doing the jump, but seeing everyone else have so much fun gave me the courage to hug the cliff and make the heart-stopping "journey" around the huge boulders to the diving spot. Once I made it over, looking down, there was no going back. Actually, jumping seemed easier at this point than trying to go around the cliff again.
I can't tell you how exhilarating it was to jump in. The waterfall on my right and the cool, fast moving, river below seemed to call out to me, saying "come join the ride." So I did!
Popping up out of the refreshing flow of the river and taking that first breath was absolutely intoxicating!
The shower and buffet lunch completed our fun day at the Elephant Sanctuary. It was a great feeling to get cleaned up and enjoy a nice buffet Thai meal right next to the waterfall. With our bellies full and our collection of fantastic memories, we were given a thank you gift and chauffeured back through the countryside, emerging into the city that felt so far away.
Some tips:
Do the all day tour if you can afford the time. While the half day is great, we really wished we had more time to just chill with the elephants.
If you do this in December or January, it is a bit cold in the morning. Have a jacket on for the ride and know that being in the mud bath and river might feel a bit cold if you are doing the half day morning tour. The afternoon tour might be a little better if you want to be warmer during this time of year.
Take advantage of the ride in the country-side. Make sure you don't fall asleep and even take some pictures. It's a beautiful ride to the sanctuary.
Have you experience elephant encounters in Chiang Mai or elsewhere in Thailand? We'd love to know what you did and where, so let us know in the comments below.
If you have any recommendations on other great animal encounter tours, tell us in the comments area below!
About the Author
Hi! I'm just a California girl addicted to travel and adventure with a passion for art and dance on the side. Born in Iran, but I consider myself a citizen of Earth, adhering to the belief that "The world is but one country and mankind its citizen." I strive to make a positive impact on everyone I meet and learn as much as possible from them. My degree out of college is in Marketing. However, I entered the hospitality business at an early age and worked my way up to hotel management. After about 13 years in that industry (5 of which I was a hotel assistant manager), I made the decision to move to Thailand and leave the 9 to 5 grind behind. My husband and I set off for a life of living abroad and hopes to continue traveling the world, just 3 months after our wedding. It all started with the two of us, along with our cat, together in Thailand. Can't wait to see where life takes us next!