Valentine's Day at Mae Sa Waterfalls in Chiang Mai
We finally decided to visit the Mae Sa waterfalls on Valentine's Day. The only thing that had previously kept us from going there was the fact that the weather was not hot enough. When we first arrived in Chiang Mai, in early December, we had about one week of warm and slightly humid weather. It started cooling down in later December and all of January. By "cooling down" I mean getting to the low 70's. We were a bit surprised at how dry and cool it could be here in Thailand. I am sure the weather was still pretty humid and warm in places like Bangkok and Phuket. However, our location in the north, proved to be a bit different.
Our initial plan (well, actually Rob's plan) for Valentine's day was dinner and a Muay Thai match. I have been wanting to see a Muay Thai match ever since we got here so I was very excited. Since we had the day open, I suggested for us to go to the waterfalls and Rob agreed. So we headed out on our motorbike. Upon our return, we realized how much energy we had spent at the falls so the night time plans got pushed to another time.
Our only way of knowing how to get there was glance at Google Maps. We tend to just wing it with directions sometimes! We took the 107 going north and made a left at the 1096. It is not a very difficult drive, directions wise. The only thing that slowed us down was some road work on the 107. It looks like (at the time of writing) they may be adding some lanes. At this time it is basically a one-lane road, so it does slow down quite a bit. Fortunately, being on a motorbike has the benefit of weaving through cars and driving on the dirt shoulder. (You do have the option of taking a red truck – songthaew – there if you do not want to drive)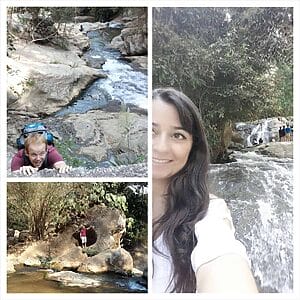 You do have to drive on the 107 for, what feels like, a long while. Once you see the police station on the left, it's about another 15 minutes until you see the sign to turn left on the 1096. The 1096 is a nice road with a bit of an incline. There are lots of places to stop and eat if you were stuck in traffic and needed something before going to the falls. There are signs that direct you so you can make sure you are on the right path by just paying attention to the signs.When we arrived, we parked in the first lot on the left. We later realized that there is more parking just a bit past that. From the Nimman area, it took us about 45 minutes total to get to the falls.
Once you arrive, there is an entrance gate and the entry cost is 100 THB (about $3.15USD) per person and a 20THB motorbike parking fee.
There are two ways to go along the water and see all of the levels of the falls. We chose the path less traveled on the left side of the water for going up and made our way down from the right side. They both offer great views and access to the water. The right side (if you are looking up at the falls from the bottom) has food vendors and picnic tables available. There are 10 levels and it really is worth the hike up all the way. Although, each level provides a falls with a certain height and width and can in itself be enough. It is not such a bad hike and if you get tired you can always sit and relax for a bit, even put your feet in the water at any level.
If you're up for a swim, there are lots of locals that just stay in the middle levels and swim. Most are in the water in their regular clothes. Thais tend to not wear tank tops and short shorts in general so it's no wonder they don't feel comfortable wearing a bikini in public. I don't think anyone would say anything if you went in with your swim suit, but I know I would feel out of place.
The water is very cool and refreshing. It was a great feeling just putting our feet in. If you intend to walk in the water, I would suggest taking a pair of water shoes or sandals that can go in water. The rocks can hurt as you walk. For the hike up, it's probably best to wear sneakers and socks just for comfort.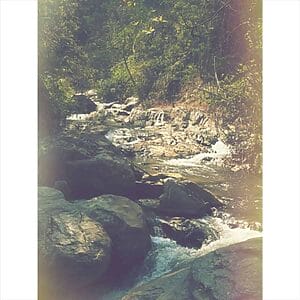 This is a great spot to just go for half a day. You can get some exercise in with the hike and some relaxation afterwards. Next time we go, I would like to take some food and have a little picnic by the water. There are not a lot of foreigners so you know this is the local's kind of getaway. It's a nice change if you want to get out of the touristy Old City area.  Definitely worth a visit if you are in Chiang Mai for more than 3 or 4 days.
On our way back on the 1096, we stopped at a strawberry farm. This was a nice find since we love strawberry jam and were able to purchase some here. I was given a small basket and pair of scissors and was able to pick a basket full of fresh strawberries as well!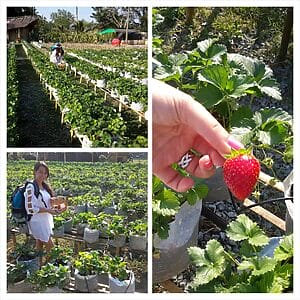 About the Author
Hi! I'm just a California girl addicted to travel and adventure with a passion for art and dance on the side. Born in Iran, but I consider myself a citizen of Earth, adhering to the belief that "The world is but one country and mankind its citizen." I strive to make a positive impact on everyone I meet and learn as much as possible from them. My degree out of college is in Marketing. However, I entered the hospitality business at an early age and worked my way up to hotel management. After about 13 years in that industry (5 of which I was a hotel assistant manager), I made the decision to move to Thailand and leave the 9 to 5 grind behind. My husband and I set off for a life of living abroad and hopes to continue traveling the world, just 3 months after our wedding. It all started with the two of us, along with our cat, together in Thailand. Can't wait to see where life takes us next!