Thai Cooking Classes In Chiang Mai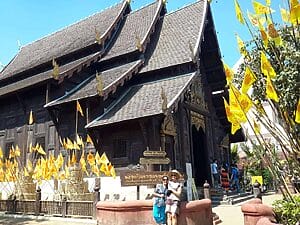 Hi Everyone! Sorry we've been quiet for a while. We have had a few visitors back to back and, needless to say, we've been out and about having lots of fun with them. In early March we were visited by both of our moms. They were with us, here in Chiang Mai,  for a week. Of course, we made sure to take them to all the major Chiang Mai tourist spots, including the Sunday Night Market, Old City and temples in it, Muang Mai Market, Mae Sa Waterfalls, and Nimman neighborhood. Unfortunately, as soon as they arrived the "burning season" started. There were days that were so smokey, you could not bear being outdoors too long. This really ruined our plans to take them to Wat Phra That Doi Suthep. I guess it was just not meant for them to see that temple, which is really too bad.
It was really great having our moms here. We were able to share our daily life here in Thailand with them. There is a feeling of being more connected with the outside world when you have been away and you get visitors from back home. They were also kind enough to bring us some of our favorite things from back home. Although, we are able to get almost everything here that we would have back home. The only thing is that some things are more expensive because they are not common here and are imported. For instance, we got Costco sized peanut butter. We go through A LOT of peanut butter, so this was a really great treat from our moms!
Two weeks after the departure of our moms, my sister and her boyfriend came for a visit. They spent 4 days here in Chiang Mai and went on to visit Phuket and Bangkok. They were fortunate to be able to visit the temple on top of Doi Suthep. We got our first rainfall and it marked the end of the burning season. No more smoke! Aside from the major Chiang Mai attractions mentioned before, we were able to experience the Night Safari and Huay Kaew Waterfalls with them.
We participated in a Thai cooking class with our moms and had such a blast that we encouraged our second set of visitors to partake as well. The cooking class that we did with our moms was through Asia Scenic Thai Cooking School. We highly recommend this cooking school for anyone who loves Thai food and wants to participate in a fun, half day activity while they are in Chiang Mai. The cooking class that we took with my sister and her boyfriend was through Baan Thai Cookery School.
You don't necessarily need to be a good cook or even like cooking that much to have a good time in these cooking classes. Personally, I hardly ever cook or take interest in learning new recipes but I absolutely loves this class and had a lot of fun. Not only that, my dishes actually turned out pretty delicious! We realized how simple and quick Thai cooking is. Which explains how we are able to get made-to-order street food that is so fresh and delicious.
Both of the cooking schools offer about four hours, either early in the day or in the evening. We did the evening classes with both schools since we were out and about with other activities during the day. The timing worked out really well this way. Both classes had about 8-10 participants to one main instructor. Asia Scenic offered 5 categories and had us choose as a group on 4. We chose appetizers, stir fry, curries, and dessert. The only thing we never got a chance to make was the soups. Within these 4 categories each of us was able to pick the specific dish we wanted to make individually. With Baan Thai, they have you pick one dish from each category they provide. They did not have the option for making dessert for our group which was O.K. with us since we had already done dessert and wanted to make soups anyway.
Before we began our cooking, we were given a tour of a nearby street market. The instructors took us to the vegetable stalls and explained all of the major ingredients that go into Thai cooking. It was a very informative session that made me feel less intimidated about cooking. Getting a bit of the background on the spices and vegetables used really helped get us ready for cooking. We were also given some time at the market to roam and explore or purchase anything we wanted.
With both cooking schools, we were each set up at a station with our ingredients either given to us or prepared by ourselves. We were shown how to prepare each ingredient and had a cutting board and knife at our individual stations to prepare everything before going to the wok station. After we prepared each dish that we had chosen, we were able to sit down and enjoy it. This gave us a chance to get to know the other members of the group and have some socializing time.
One of the major difference we noticed between the two schools was the pace and flow of the class. With Asia Scenic, the class seemed to have a more fluid flow. There were never any moments that the participants wondered what was supposed to happen next. Asia Scenic instructors paid more attention to the individuals in the class and were always a step ahead. They made sure your food turned out great. With Baan Thai we felt that there were times during the end of the eating break that we were left alone by the instructor. While the instructors were very polite and king, they were not as enthusiastic and involved with us.
Another major difference between the two schools was the fact that Baan Thai separated our group into different rooms depending on the dish we were preparing. There were times when one out of four of us was in a separate room preparing a dish with people from other groups. It was a lot more fun with Asia Scenic since we were all together and always had one instructor.
Overall both cooking schools were great at how they treated us. Rob and I felt that the dishes we made with Asia Scenic tasted better. This could be due to user error so I would not blame it on the cooking school. We highly recommend partaking in this activity if you are in Chiang Mai.
Cost: 800 THB/person (about $25USD)
Includes: Pickup and drop off from hotel, tour of market, all the food you prepare, recipe book, web photos.
About the Author
Hi! I'm just a California girl addicted to travel and adventure with a passion for art and dance on the side. Born in Iran, but I consider myself a citizen of Earth, adhering to the belief that "The world is but one country and mankind its citizen." I strive to make a positive impact on everyone I meet and learn as much as possible from them. My degree out of college is in Marketing. However, I entered the hospitality business at an early age and worked my way up to hotel management. After about 13 years in that industry (5 of which I was a hotel assistant manager), I made the decision to move to Thailand and leave the 9 to 5 grind behind. My husband and I set off for a life of living abroad and hopes to continue traveling the world, just 3 months after our wedding. It all started with the two of us, along with our cat, together in Thailand. Can't wait to see where life takes us next!