Singapore Travel Doesn't Have To Be Expensive – Stay Cheap On Your Visit
It seems that whenever a conversation about Singapore travel comes up, the one thing that is always mentioned is that Singapore is expensive. While this may be partially true, there are ways that expenses can be minimized. A huge chunk of anyone's travel budget is usually spent on accommodations. Knowing where to stay for cheap in Singapore can help those that may not have initially thought they could visit. One of the best budget accommodations we found in Singapore is a hostel near Chinatown with convenient access to nearby attractions so you can save money on transportation as well!
Best Budget Accommodation Singapore – 5Footway.inn Project Ann Siang
You don't have to forgo your trip because you've heard that Singapore is expensive for travel. The 5Footway.inn Project Ann Siang is a great hostel where you can stay for cheap so you can save money and still be able to enjoy a great time in Singapore. Not only are the accommodations affordable, but they offer a great value. Often, travelers may feel that they have to sacrifice comfort, safety, or convenience to save money. However, this cheap hostel provides all of that, and that's why we were so satisfied with our stay there!
Stay on a Budget – Great location Near Singapore Chinatown
Just across the street from 5Footway.inn are two famous attractions. The Buddha Tooth Relic Temple and Sri Mariamman Temple are both a quick 2 minute walk out of the hostel. You'll be able to easily explore Chinatown without having to spend a dime on transportation. There are lots of food options right by the hostel as well. You can enjoy some great Chinese food at the Chinatown Food Street or on the main road where the hostel is located.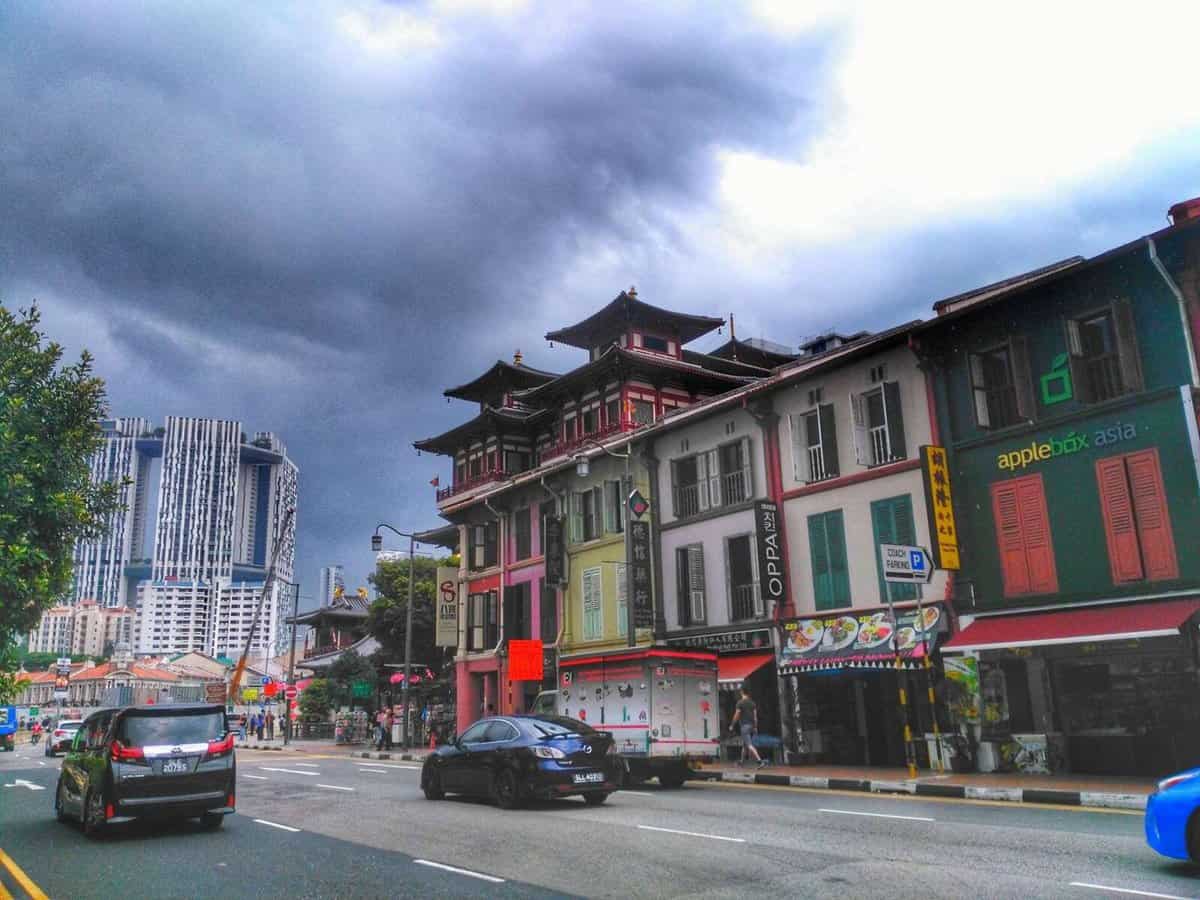 Pro-Traveler Tip: Hawker Chan is a quick 4-minute walk from the hostel. Try the famous Michelin-starred soya sauce chicken here for less than $5 USD! (Thanks Authentic Food Quest for the food guide!)
The taxi ride from the airport cost us about $8 SGD (Just over $5 USD), but there are cheaper modes of transportation like the MRT that can get you there for less than half of that. Getting around to other attractions is also quick and easy from this hostel. We preferred to use GRAB or hail a taxi to places like Sentosa Island and Gardens By The Bay. A ride from this hostel to Universal Studios on Sentosa Island was about $7 SGD ($5 USD).
Check out our suggestions on the top places to see in Singapore.
Pro-Traveler Tip: Get a ticket at the beginning of the day for the Hop On Hop Off Sightseeing Tour and go to all the sights with the added benefit of an audio tour! One of the stops of their Red Line is right in front of the 5Footway.Inn Project Ann Siang.
Where To Stay Cheap Without The Sacrifice
Our first stop in Singapore was the 5Footway.inn Project Ann Siang. It was a bit difficult for us to find the place once we were dropped off by the taxi-mostly because we were in awe of our surroundings and visiting a new place. To be honest, the hostel blends right in with the buildings in that area. I point this out because it's part of why I enjoyed this hostel. Walking up to the humble entrance in between shophouses made me feel like I was a local going up to my apartment.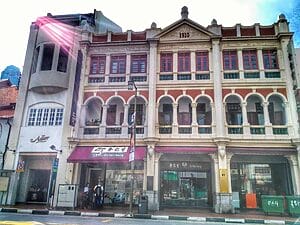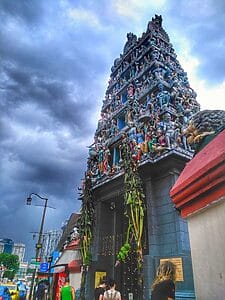 The cute little lobby welcomes you with inviting colors and modern furniture. With two guest computers and a couch along with tourist information, it's all you need as a traveler to get started. The lobby area is a great spot to chill for a second and plan your day using the WiFi or computer while having the view of Chinatown right below.
I noticed the cleanliness of this hostel immediately. They seem to have renovated recently (or at least that's what it looked like), and everything looked tidy and fresh. It might seem trivial, but with so many people coming in and out of a hostel on a daily basis, this can be tricky. They do a great job!
website: 5Footway.inn
Facebook: https://www.facebook.com/5footway/
Instagram: https://www.instagram.com/5footwayinn/
Our readers can get a 10% discount when they book directly with 5footway.inn.  Email promo code "TTW10" promotion@5footwayinn.com  to book your. This code is valid for booking and staying before November 2017.
The Room And Other Features
The room, while not very large, had a great sense of spaciousness to it. We had the loft-style room with a high ceiling and a bed up above and one below. It was great having a desk in the room as well. The desk allowed us to have a place to empty our pockets and be able to get ourselves organized at the end of the day.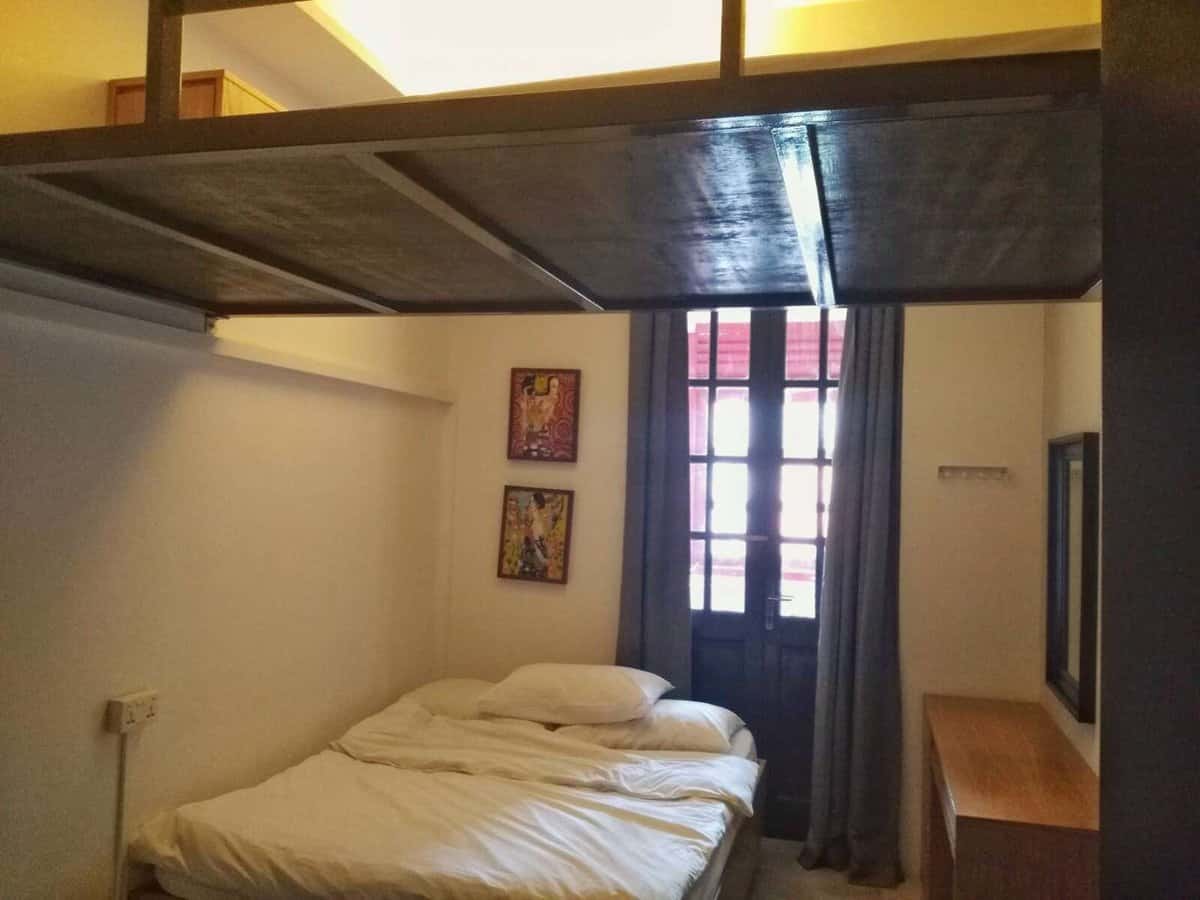 The best feature of the room was the terrace. The terrace gave us a great view of Chinatown and the city behind it. It was a delight just sitting up there and taking in the views. When we weren't enjoying the view from our room, we were up on the roof terrace with a cup of coffee (yes, they have unlimited coffee available here!). I really wish that they served breakfast up on the terrace. It provides a great space to socialize at night as well, but you might want to grab yourself a beer from the nearby 7-Eleven first!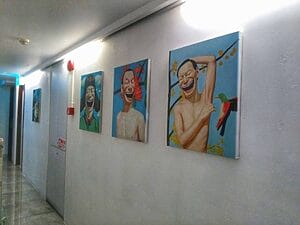 Here are some other benefits of staying at 5Footway.inn Project Ann Siang:
Washers and dryers on property – Yeah, you don't have to worry about packing a lot of clothes when you know you can easily get them washed!
International Electric Plugs – Forgot your adapter? Not an issue!
Shared refrigerator – store your leftovers!
Walking distance to Maxwell Food Centre – Great food and great prices!
For the best budget accommodation in Singapore, we highly recommend the 5Footway.inn. They have another location at Boat Quay that is just as great. For those who think Singapore travel is out of reach due to budget, having a place to stay like this where you don't have to sacrifice safety, convenience, and comfort may make a huge difference.
Pin it!
Disclosure:
We were guests of the 5Footway.inn for this stay. All of the opinions stated above are our own. We only review hotels and resorts if we feel they will be good places for our viewers and only write about locations that meet our high expectations as guests. Please note that this is not a sponsored post, but the links above may include affiliate links. If you make a purchase through one of our links, we could get a small commission at no extra cost to you.
About the Author
Hi! I'm just a California girl addicted to travel and adventure with a passion for art and dance on the side. Born in Iran, but I consider myself a citizen of Earth, adhering to the belief that "The world is but one country and mankind its citizen." I strive to make a positive impact on everyone I meet and learn as much as possible from them. My degree out of college is in Marketing. However, I entered the hospitality business at an early age and worked my way up to hotel management. After about 13 years in that industry (5 of which I was a hotel assistant manager), I made the decision to move to Thailand and leave the 9 to 5 grind behind. My husband and I set off for a life of living abroad and hopes to continue traveling the world, just 3 months after our wedding. It all started with the two of us, along with our cat, together in Thailand. Can't wait to see where life takes us next!