Bo Sang Umbrella Festival Chiang Mai
Visiting the Bo Sang Umbrella Village is a nice treat for anyone spending a few days in Chiang Mai. Going there during the Umbrella Festival is even better.  The colorful art overflows in the streets during this time and is a sight to see. Sometimes referred to as Bor Sang (written in Thai: บ่อสร้าง), this handicraft village in the San Kamphaeng District of Chiang Mai, Thailand isn't quite considered an attraction, but worth a short visit for tourists who have a bit of time in the area. While the directions are easy to get here and drive time is only about 30 minutes, there is public transportation available as well. 
Bo Sang Handicraft Center
is know as the place where the local artisans of San Kamphaeng make those bright colored parasols with intricate floral designs. If you get a chance to attend the Umbrella Festival here, I would highly recommend it. The festival usually takes place the
third weekend of January each year
. Be prepared to spend a few hours going down the street (closed off to traffic during this time) and admiring the decorations, art installations, eating lots of Thai food and treats, and even participating in some arts and crafts activities. Keep reading for all the details below.
Make sure to have your camera handy as you'll be provided with lots of photo opportunities during this colorful festival.
The Bo Sang Umbrella Village is one of those places that I would recommend for visitors who are into arts and crafts or wish to purchase some locally, handmade, souvenirs to take back home. The handicraft village of Bo Sang isn't necessarily a "must see" or "Must do" (like hanging out with elephants at the Elephant Sanctuary), but suited more for those seeking a different kind of activity. One where local artisans are creating beautiful pieces of art that can be purchased as gifts or for personal home decor and in making these purchases the local community can benefit.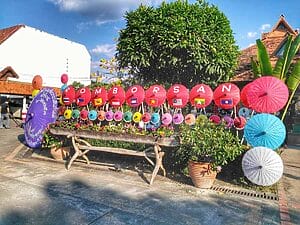 What To Expect At The Umbrella Village
The Umbrella Village is not very large in size and spending a couple of hours looking around is all that is needed during non-festival times. The area consists of a cluster of shops selling handmade goods, additional trinket markets and stores, along with a temple down the street .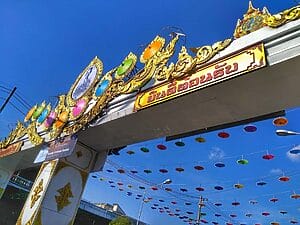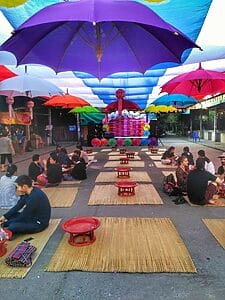 I will admit that my first trip to the "Umbrella Village" was full of unrealistic expectations. That first visit was a bit anticlimactic for me because I had imagined it to be more exciting somehow. I'm not sure what I was thinking, exactly, but I left feeling a bit let down (but still loved seeing all the lovely decorated umbrellas!).
Somehow I was expecting there would be more energy and excitement in the town. However, considering this a place where artistic work happens, one should not assume a performance. There is no tourist welcome center or informational presentation or show here. If you are looking for a formal, structured, tourist attraction, you will not find it.
Instead, you will be pleasantly surprised at how laid back and quiet this area is as compared to the hustle and bustle of the Old City. It's an area where one can brows at a leisurely pace and admire the artwork at one's own pace. If you have been to one of the many famous markets of Chiang Mai, like the Sunday Night Market, you may enjoy being able to take your time looking through the handicraft items here much more. You will also appreciate the sheer variety and options of items here.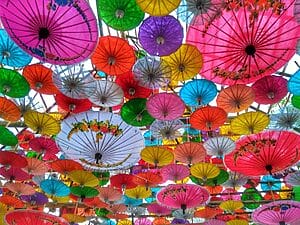 If you are looking to make gift purchases, this is the place to do it. The prices are great and you may even be able to get shipping arranged for the items, so you won't have to deal with the difficulty when packing your luggage (and possibly running out of room).
The Bo Sang Umbrella Festival
During the festival, things liven up a bit more (festivals tend to make this happen, right?). The area fills with people, usually as the sun starts to go down and the day is a bit cooler. The street, where the main umbrella center is located, is closed off to cars (some motorbikes still sneak through). Vendors fill the street with everything from clothing to food (some unique and delicious treats can be found here) as well as handicraft items.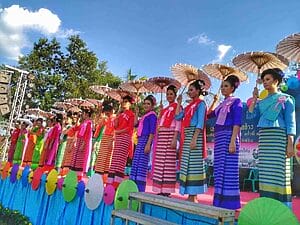 Upon entering the street, you are welcomed with an outdoor art gallery and huge umbrellas laid on their sides, displaying the dazzling designs that are painted on them. Looking up, you'll also notice small umbrellas hanging, creating a canopy of color. Even looking down, you'll be hit by color. The street will be covered by everyone's chalk art as they made their artistic mark going through this festival.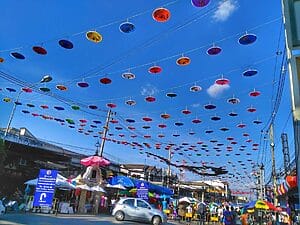 Umbrellas. Yes. They will be EVERYWHERE. The traditional Thai handmade mulberry paper (Saa paper) parasols, brightly colored and decorated, and crafted from bamboo or cane decorate almost every wall, ceiling, and even street sign!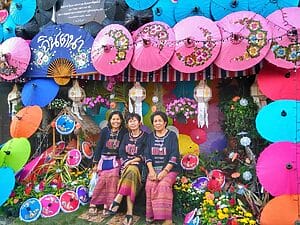 Festival Highlights
Art all around you
Shopping: Great prices and selection of handicraft items, including Saa Paper Umbrellas.
Delicious food and snacks

Pro-Tip: there may be items here that you might not find easily at other markets. Make sure to try a little bit of everything! (I tasted sesame pancakes for the first time here)

Photo opportunities: they will have a few areas specifically set up for taking photos in a scene of amazing colorful umbrellas!'
Music
Visit Wat Bo Sang located on the same street.
Umbrella Beauty Pageant participants will parade down the street on bicycles wearing traditional Thai clothing while holding beautifully colored umbrellas.
How To Bo Sang Handicraft Village
White Songthaew: You will have, undoubtedly, seen the red songthaew trucks around Chiang Mai. These are typically how locals and tourists can get around the town area. For anything further out of town, you will need to ride the white, yellow, or even blue songthaews (depending how far outside the perimeter you are going.
Take a red songthaew to Warorot Market. Red trucks are easy to catch from any part of the Old City. You can let the driver know you are trying to get to the white songthaew "station" so that you can take one to the Bo Sang Umbrella Village. Our driver was kind enough to take us directly inside the Warorot Market (also called Kad Luang) where the white songthaews were parked, waiting to fill with passengers. If you get dropped off outside of the Warorot Market, just walk straight in and keep looking down the branching off alleys to find the white trucks.
Find a white truck that is almost full (so that you don't have to wait long) and let the driver know your stop is Bo Sang. The price should be 30 THB (but confirm with the driver just to be sure).
Once the white songthaew has filled to capacity, you're off! It's about a 35 minute ride.
The ride goes mostly straight down the 1006. You will most likely get dropped off at the 1014 intersection and just walk a few steps to enter the Umbrella Making Center.
Other ways to get there: If you are comfortable driving a motorbike and have an appropriate license, then driving yourself should be quite easy and quick. You may also choose to take a Tuk Tuk if you do not want to share a ride with others. A Tuk Tuk may cost around 300 THB. Uber and Grab are also options.
Important Note
: We had a hard time finding a cheap ride back to Tha Pae Gate at the end of the festival. There were a lot of red songthaews passing on the main road, but they seemed to all be full and would not stop. No white songthaews passed during the time we were waiting so we opted to take a Tuk Tuk back. Luckily, another couple was in the same situation and could not even get an Uber, so we shared the ride back to town with them. After some negotiating with the driver, we were able to set the price for the ride at 250 THB.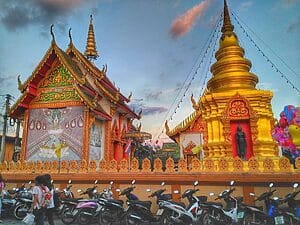 Add These To Your Trip
Pin it!
About the Author
Hi! I'm just a California girl addicted to travel and adventure with a passion for art and dance on the side. Born in Iran, but I consider myself a citizen of Earth, adhering to the belief that "The world is but one country and mankind its citizen." I strive to make a positive impact on everyone I meet and learn as much as possible from them. My degree out of college is in Marketing. However, I entered the hospitality business at an early age and worked my way up to hotel management. After about 13 years in that industry (5 of which I was a hotel assistant manager), I made the decision to move to Thailand and leave the 9 to 5 grind behind. My husband and I set off for a life of living abroad and hopes to continue traveling the world, just 3 months after our wedding. It all started with the two of us, along with our cat, together in Thailand. Can't wait to see where life takes us next!