Zhangjiajie National Forest – The Ultimate Two Day Trekking Experience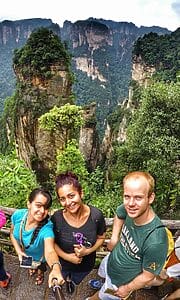 We had no idea how extraordinary this place was going to be. Sure, we had seen photos and videos and that's what really inspired us to visit Zhangjiajie National Forest in China. But, we were in no way prepared for the amazement and awe that we would experience during our two day trekking through this magical forest.
It's not often that movies get inspiration from actual places in the world. I mean, usually, it's the other way around. A fantastical and magical world is created in a movie and the experience is attempted to be recreated by theme parks and such. It's said that the quartz-sandstone pillars of this enchanting forest influenced the creation of the floating mountains of Avatar. To have been able to experience this real-life world of pillars and mountains with forest and rivers crawling in their cracks, was nothing short of exhilarating!
Zhangjiajie National Forest Park
Truth be told, two days is not nearly enough time to hike around this, nearly 12,000 acre, UNESCO World Heritage Site located in the Hunan Province of China. The quartz-sandstone pillars that are famous geographic features of this karst landscape are the result of many years of erosion and contain thick foliage in their valleys. To hike around the different scenic routes takes several hours each day (and lots, and lots, of energy!). While the routes are well developed and made safe for tourists, they can still be physically challenging in some areas. There are also buses that are provided free for park visitors to be able to reach the many different sections of this park.
Where To Stay In Zhangjiajie
Our hotel was located about an hour south of Zhangjiajie National Forest. Many visitors recommend staying in the nearby town of Wulingyuan. This is where the park is actually located and getting to the entrance is much more convenient for visitors who stay in one of the many hotels here.
We did not realize this until a week prior to our visit and our guesthouse was already booked. If we had the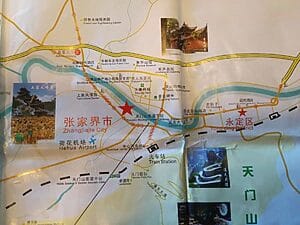 opportunity to do this again we would definitely book our first two nights in Wulingyuan and our third night in Zhangjiajie. Being in Zhangjiajie, however, made it convenient to get to Tianmen Shan as the cable car base is located there.
Zhangjiajie Yijiaqin Hotel
No.25 Pengjiapu Neighbourhood,
Yongding District, Yongding,
Zhangjiajie, China 427101
Despite having to "commute" an hour by bus each morning to get to the Zhangjiajie National Forest, we thoroughly enjoyed our stay at Yijiaqin Hotel. It is a quaint guesthouse tucked away in an alley off the main road. The rooms are spacious and clean, with comfortable beds. While it's easy to get to the main road and a, short, fifteen minute walk to the bus station, it's still a quiet place to get some much needed rest after a full day of hiking and site-seeing in the park.
For those looking to attend both the Zhangjiajie National Forest and Tianmen Mountain and may not feel like moving to two different locations for accommodations, staying here will make it easy to get to both destinations without the hassle of changing hotels.
The owner is extremely warm and welcoming. He can provide transportation to and from the airport, which is a relief for travelers and one less thing to have to worry about. In addition to his wonderful hospitality, he is very good at helping you set up your visit. As soon as we checked in, he was ready with a map for us and detailed directions and instructions on what to see, when to go, how many hours everything will take, and what buses to take to get to everything. He even advised us on which part of the park would be better depending on whether or not there was going to be heavy rain on the days we would be spending there. It was thanks to him that we were able to optimize our time and experience in the park, cave, and visiting Tianmen Shan.
How To Get There From Zhangjiajie Town
If you are staying in Zhangjiajie City, you will need to take a shuttle bus to Wulingyuan. The bus station was a fifteen minute walk from where we were staying so we walked to it each day. Taking a taxi would be a quick and easy way also, without a high cost.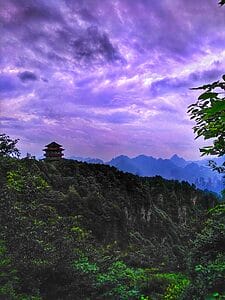 Once at the bus station, you need not stand in line to purchase a ticket. You will need to go straight to where the small shuttles are located. The best way to be sure you are on the right bus is to confirm with a passenger and the driver. The signs on the buses are in Chinese only. Make sure you have the name of the park in Chinese to show the person you are asking. We also looked at the Chinese characters on the signs and matched them up (always confirm with the driver as a best practice).
Once on the bus for a few minutes, someone will come around and collect the fare. It costs about ¥12 CNY (about $2 USD) per person for the hour long trip.
Upon arrival in Wulingyuan, you will be dropped off on the main road in town. It's about a ten minute walk up the road to get to the main entrance. You will go through an area with vendors selling shoes, umbrellas, souvenirs, etc. as well as some small eateries along the way.
Entry Cost and Time Needed
We were able to hike two different sections of the park and squeeze in a couple of hours to explore the nearby Hang Long Cave, which is about 40 minutes east of the forest. In retrospect, 3-4 days would have probably provided amble time to really experience this park and be able to thoroughly enjoy the scenery more in-depth. It's no wonder that the entry ticket allows for visitors to utilize it for four days with a one-time fee of ¥245 CNY (about $37 USD) per person. Having said that, you need to make sure that you keep your ticket (it's actually a hard card, the size of a credit card) safe, because you will need it to enter each day. Keep in mind that the ticket can not be used by other people, as they do scan your fingerprint upon entering with your ticket.
With two days set aside to see all the wanders of this forest before moving on to Tianmen Mountain, we knew that we had to move fast.
Zhangjiajie Forest Trekking Day 1 – The Views From Above
Bailong Elevator
One of the most famous landmarks in this park is the Bailong Elevator. It is an elevator constructed on the face of one of the cliffs and holds the record for the tallest outdoor lift. Rising to 1,070 feet and ascending in 1 minute 32 seconds, this elevator gives it's passengers a breathtaking view of the nearby monolithic karst formations.
The Bailong Elevator was our first stop upon arriving by bus from the entrance of the park. It costs an additional ¥72 CNY (about $11 USD) to experience this Guinness World Record holder.
Although the recommendation to ride this elevator is a bit controversial out there on the internet and blogging world, it nevertheless, is a major achievement and spectacle that adds value to visiting the park. It's really up to the individual to decide whether or not it's worth to them to spend the extra money to ride the elevator.
In our opinion, you should take advantage of your visit and take the ride. I mean, how often will you be visiting this place? Wouldn't you like to tell your friends and family you rode the tallest outdoor elevator? Maybe it's not a big deal to you and the short ride isn't worth it (can be super crowded, too). And that's OK, too. Either way, there is much more to the park than this.
Heavenly Pillar and Greatest Natural Bridge
As per our hotel's owner, Rocky, had suggested we started our hike after taking the Bailong elevator to the upper section of the park. We hiked part of the central area of the park and then took one of their free buses up to the north-eastern part of the park. This is all of the area where you can see the pillars from up above. There are several lookout points along the hike that are picture perfect.
The breathtaking views are overwhelming, but addictive as you see one set of peaks and yearn to keep going for more. On this day we hiked up to the Greatest Natural Bridge, which is a famous natural formation of to cliffs connecting at the top. There are countless other formations that we viewed along our 6 hour hike that are given enchanting names, such as "Heaven Pillar," "Three Sisters Peak," and "Moon Viewing Platform".
Heavenly Pillar, one of the more famous pillars is referred to as "Hallelujah Mountain," relating to the movie Avatar and is truly a spectacle to view!
The ever-winding trail displaying these amazing natural wonders in it's open viewpoints is a thrilling experience. Though the trail was packed pretty much the entire way with tourists, one is never distracted from the beauty that nature presents in this park.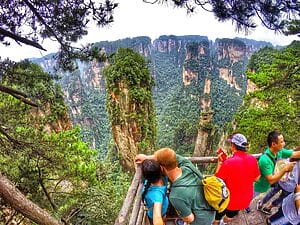 If you're energy level is down towards the end of all this walking, you can take the bus back down to the Site-seeing Mini-train or challenge yourself further by going down the 8000-step path. Now, I never actually counted the steps as we were making our way back (mostly due to trying not to fall over from exhaustion, ha!), but it was enough to make me believe them.
Don't be fooled by thinking the steps are going down the entire way, as they are up in some sections and down in some other areas. This part alone to us about 2 hours to get through. The views are of the forest the entire way and there are no facilities. You may run into a couple of places selling some snacks and water but use the bathroom prior to starting this section, because you will not find any along the path.
It's quite a trek! Make sure you are mentally and physically ready for it.
Zhangjiajie Forest Trekking Day 2 – Huang Long Cave & The Views From Below
On our second day, it was quite a rainy morning so visiting the Huang Long (also known as Yellow Dragon) cave seemed like the ideal (and dry) thing to do. It really worked out perfect since spending two hours exploring the inside resulted in coming out to a sunny afternoon!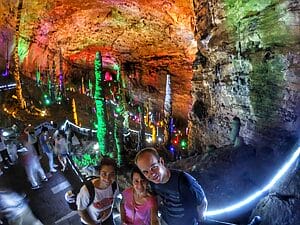 Huang Long Cave
Entrance Cost: ¥100 CNY (about $15 USD)
The seemingly never-ending passages offer up some crazy looking (and some very large) limestone formations that are sure to bring out the awestruck kid in any adult.
The first area, upon entering, is a large cavern with a high ceiling and limestone formations all around. There is colorful lighting on the limestone creations to give them an even more mystical appearance.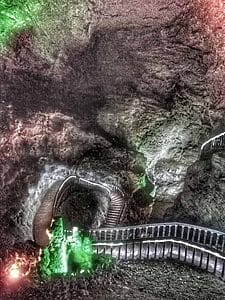 Once you've enjoyed this beautiful natural gallery, you can climb the stairs up to the areas where the waterfalls are located and well as walk through some tight passages and get up close with the caves inner limestone gardens.
But wait, there's more. As if all of this was not enough to amaze you, they offer a boat ride (for a nominal additional fee, ¥15 CNY or about $2.25 USD) that takes you for a ride on one of the cave's rivers! The ride lasts about 20 minutes and is quite enjoyable. Do pay the extra Yuan and experience it when visiting the cave.
To get to the cave, you must first go into Wulingyuan town and then take an inter-city bus (Number 1 bus) to the area where the cave is located. It's about a 25 minute ride and the cost is minimal. So, if you have an early morning and the rain is pouring, get to the cave for some shelter and exciting adventure!
Riverside Paths Below the Pillars
By the time we were done site-seeing Huang Long Cave, the rain had stopped and clouds were parting to show clear, sunny skies. This was the perfect way to take the stroll along the river and see the amazing karst pillars from the forest floor.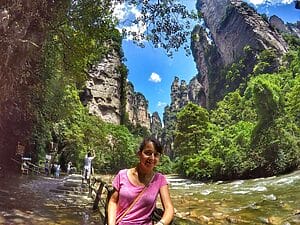 Our hotel had told us that the river might be a bit dangerous to visit if there were heavy rains and advised us to go on the day that the weather was forecast to be better.
Taking the riverside path provided a different perspective of the natural wonders of Zhangjiajie National Forest. Along this path, there are areas where you can dip your feet into the river. There are also natural springs where you can taste the clear, refreshing water, and cool down a bit from the summer heat and humidity. It's a revitalizing feeling to soak your feet into these waters after so much walking and hiking!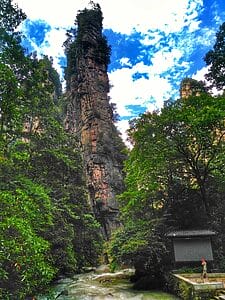 This trail lead us to the lower station of the Huangshi Village Cableway. We rode the cable car up and were treated to an amazing panorama of the majestic quartz-sandstone structures popping up all around us. The surrounding views from the cable car are absolutely mesmerizing, to say the least.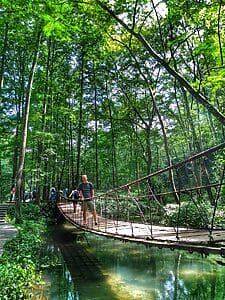 Due to lack of time (as well as energy) we took the cable car back down as apposed to hiking down the trail. We had to make sure our timing worked out with catching the shuttle back to our hotel, which would take an hour and stops running by around 6 pm.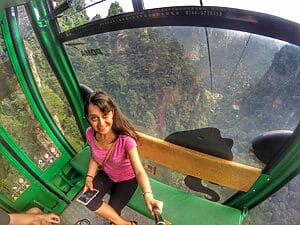 The grand finale to our two day adventure through Zhangjiejie National Forest was the cable car back down. Again, gliding through this enchanting forest, feeling like a bird soaring over a mythical landscape on another world. It was something out of a storybook. An unforgettable experience.
About the Author
Hi! I'm just a California girl addicted to travel and adventure with a passion for art and dance on the side. Born in Iran, but I consider myself a citizen of Earth, adhering to the belief that "The world is but one country and mankind its citizen." I strive to make a positive impact on everyone I meet and learn as much as possible from them. My degree out of college is in Marketing. However, I entered the hospitality business at an early age and worked my way up to hotel management. After about 13 years in that industry (5 of which I was a hotel assistant manager), I made the decision to move to Thailand and leave the 9 to 5 grind behind. My husband and I set off for a life of living abroad and hopes to continue traveling the world, just 3 months after our wedding. It all started with the two of us, along with our cat, together in Thailand. Can't wait to see where life takes us next!