Mutianyu Great Wall Of China – An Epic Guide For Your Visit
What visit to China would be complete without going to the Great Wall? One of the World Wonders and known by most humans around the globe, this ancient structure, is jaw-dropping, to say the least. We've got all the info for getting to the Mutianyu Section of The Great Wall and what you should expect when visiting. Make sure to take note of some of our tips for visiting, including best times to visit and what to do when you're there. Most have seen this spectacular place in movies and photos, but few may have the privilege of climbing it's stairs and looking out from its beacon towers. Once used as protection against invaders and as a means of border control, taking several centuries to erect, it's no wonder The Great Wall of China has built (pun intended) itself quite a reputation.
Where To Stay In Beijing
The guesthouse we booked was in a perfect location in Beijing. The subway station is within walking distance of the Hu Tong (ally/narrow street) that the guesthouse is on so it made getting to our destinations very easy and economical. The accommodations were also very affordable. While not exactly a "backpacker" budget hotel, it was still only about $60 USD per night (during high season) for a loft that fit the three of us comfortably. It was clean and the staff were helpful and friendly. Beijing 161 Wangfujing Hotel No. 161 Li Shi Hu Tong, Dong Si Nan Da Jie, Dongcheng District, Wangfujing Street & Forbidden City, Beijing, China 100010
How to Get to Mutianyu Great Wall Section From Beijing
Our visit started after breakfast and included an hour bus ride from Downtown Beijing,  followed by another half hour on a shuttle. It can be quite difficult to locate the correct bus that will take you in that direction, so most would probably opt to hire a taxi (for convenience as well as time saving). If you want an economical way to reach the Mutianyu Section, from Dongzhimen Bus Station, you can take bus line 916 Express or 916 to Huairou North Avenue (Huairou Beidajie) Station. It costs ¥12 CNY (under $2 USD) per person and it comfortable if you are lucky to find a seat.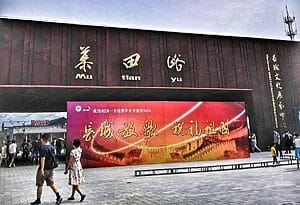 Once you reach the stop for the bus, there will be shuttles waiting to be hired. They usually try to collect as many people as can fill the car before taking off. If you are short on time, this may be a risk you may have to take. Luckily for us, we had a few people going at the same time as us, so there was no wait. The cost for this part of the ride was under $1 USD, so we were happy with the savings! Entrance fee for Mutianyu Great Wall: ¥45 CNY (under $7 USD)
Things to Do At Mutianyu Great Wall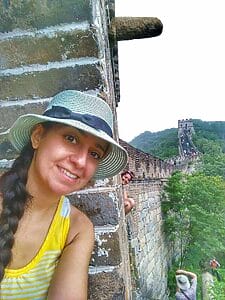 Before making our way up the stairs to Watchtower #10, we grabbed a few sandwiches from Subway so that we would have lunch later on the wall. With our food in hand, we walked up about 20 minutes of stairs before we reached the #8 Watchtower (there are 23 watchtowers in this section). There is the option to ride the cable car to Watchtower #14, but we wanted to get the full walking experience. To approach the Great Wall was an invigorating and intense feeling. It just hits you from out of nowhere as you are walking up the stairs, not really able to see much other that the trees and brush around you.  Finally reaching the actual Great Wall, literally, takes your breath away. To suddenly walk on and touch this, almost mythical, relic is an indescribable feeling. Taking our time and walking to the #15 Watchtower, we took in as much as we could. The smog and thick, heavy, humid air made walking and climbing the stairs like trying to swim through molasses. Despite the heat and labored breathing, we managed to hike for hours thanks to the sheer enchantment of being in such a magical place.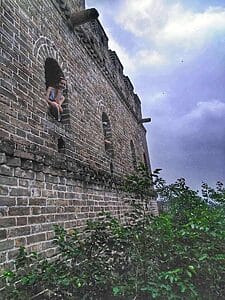 To reward ourselves, we walked back to Watchtower #6 and took the Speed Chute, or Slideway, back down to the bottom. The cost of riding the toboggan down the metal slide was ¥80 CNY  or about $12USD per person. Not only was it a relief to our aching legs and tired feet, but sliding down provided a different perspective of The Great Wall. Not to mention that it was awesomely fun!
Tips On Visiting The Mutianyu Great Wall
Here are our five suggestions for those who visit the Mutianyu Great Wall. These are just some of the things that we would like to pass on from our experience and hope it helps other travelers make the most of their time.
Taking the bus to the Mutianyu section of The Great Wall was a great way to save money. However, as we mentioned before, it can be difficult finding the bus station and making sure you are on the correct bus (everything is in Chinese!). We, mistakenly, didn't take the Express Bus back on our way to the hotel at the end of the day It took twice as long to get home.
The shuttles that take you from the bus station to the entrance are a good way to save time when taking the bus. Just keep in mind that they try to fill up with passengers before they leave. This may delay your time in getting to the attraction.
We recommend taking snacks or food with you. Water is a must! There are no vendors on the wall. You may find a vendor near the cable car ride, but they don't have much, and the prices are steep. Grabbing a sandwich from Subway before the entrance worked out very well for us and gave us the energy to go for hours.
There are toilets, but they are far and few in between. Make sure to take napkins with you since toilet paper is not provided in most public restrooms in China. Having hand sanitizer would also be helpful.
Best time to visit would be late spring or early fall for the best weather. We visited in the middle of July, and the heat was almost unbearable. The winter month make the Great Wall very slippery with ice, making walking on it difficult. The surrounding scenery is also best when it's lush and green with vegetation.
If you plan on hiking for hours on The Great Wall (we definitely recommend this for the ultimate experience). Make sure you plan a light day before and after the day you do this. We consider ourselves fit and exercise on a regular basis, but it kicked our butt, nevertheless (we had been hiking Tianmen Mountain the previous day).
Set aside some time to just sit in one of the openings of the watchtowers. It's not ever day one gets to visit this monumental piece of architecture. Make sure you relax a bit and take it all in.
Have you been to The Great Wall? Let us know your experience and if you visited a different section. Please feel free to share with us any tips or other fascinating tidbits about China that may help other travelers to the country!
We'd love to hear from you! If you've enjoyed this article, hit share and help us get more social!
About the Author
Hi! I'm just a California girl addicted to travel and adventure with a passion for art and dance on the side. Born in Iran, but I consider myself a citizen of Earth, adhering to the belief that "The world is but one country and mankind its citizen." I strive to make a positive impact on everyone I meet and learn as much as possible from them. My degree out of college is in Marketing. However, I entered the hospitality business at an early age and worked my way up to hotel management. After about 13 years in that industry (5 of which I was a hotel assistant manager), I made the decision to move to Thailand and leave the 9 to 5 grind behind. My husband and I set off for a life of living abroad and hopes to continue traveling the world, just 3 months after our wedding. It all started with the two of us, along with our cat, together in Thailand. Can't wait to see where life takes us next!