Best Place To Stay In Pai – Reverie Siam Resort Review
Not only our favorite accommodations in Pai, the Reverie Siam Resort is quite possibly one of the top luxury resorts in all of Thailand. Our recommendation for anyone asking where the best place to stay in Pai, Thailand, is the Reverie Siam Resort. An excellent property to stay for couples and those on honeymoon, this place is romantic and hospitable, making guests feel relaxed and pampered in seemingly effortless fashion.
A lot of visitors tend to make their way from Chiang Mai to Pai when visiting Northern Thailand. If you are in Chiang Mai, make sure you put aside some time to make the 3 hour trip to Pai. While we are total beach people, we love spending time in Pai. There's just something very relaxing and electrifying about being up there in the lush rolling hills and valleys. If you do make the trip, you absolutely have to stay at the Reverie Siam-even if it's just for one night.
Why This Is The Best Place To Stay In Pai
The two times that we have had the pleasure of staying at the Reverie Siam in Pai have been nothing short of magical. I'm not exaggerating when I say this. I mean, Pai is one of the best places in Thailand for couples to spend some time together. So, it's only fitting to stay at a resort that takes this romantic and charming place up a few more notches by adding in a bit of sincere hospitality and a whole lot of warm creature comforts.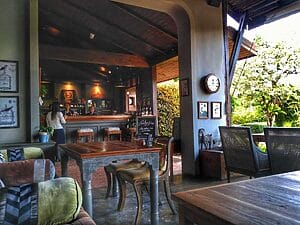 With it's charming 20's decor, the Reverie Siam slowly takes you back in time. The smooth melodies of that era playing in the background automatically put you in the mood for pleasure and opulence.
The Rooms – Luxury and Comfort
The very first time we stayed at the Reverie Siam was also our first time visiting Pai. It was a birthday surprise gift from Rob, and it could not have been any more perfect. He had booked one of the villas here. To say it was sublime is an understatement.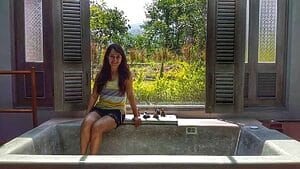 The villas are as close to perfection as it gets. For a honeymoon, romantic getaway, anniversary, or other such big occasions, this is the type of room you HAVE to book. Yes, the rooms are not exactly for the backpacker budget, but well below the cost of anything even remotely close in most Western countries. So spending a bit more than you would think you have to in Southeast Asia is still not going to break the bank, especially with what you get.
Check For Availability at The Reverie Siam
Our villa had a private porch in the back with a view of the mountains just beyond the Pai River. As you lay in bed, you can also enjoy this view straight ahead. Speaking of their beds, well, divine is a word that comes to mind. Super comfy mattresses and luxurious sheets are bound to give you your beauty rest. But before getting tucked in for the night, you'd want to take advantage of the large bath tub which also has a window that opens to the same view mentioned above.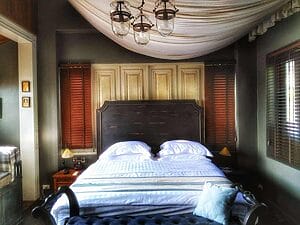 On our second visit, we stayed in a two bedroom terrace since we were traveling with family. This type of accommodation is perfect for families or friends traveling together who want to stay close to each other. The terrace on the second floor had our two rooms right next to each other. These rooms are also decorated just as beautifully as the villas. While they are a bit smaller, they still have a very sizable bathroom and the room with plenty of space.
The views from our terrace were overlooking the green land around the property and the mountains just beyond. Stepping out of room every morning, we were greeted by the beauty of Pai that set the tone for the rest of our day.


Reverie Siam Resort Amenities
As you can tell, we really think this is the best place in Norther Thailand for couples. But that isn't to say that families aren't going to have a blast here. Take a look at all the great things offered at this hotel. We're sure that anyone staying here will have a great time. The rooms aren't the only factor for why this is the best place to stay in Pai.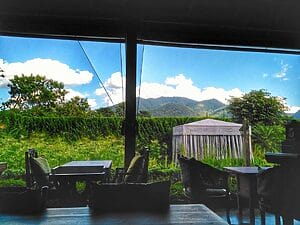 Breakfast at Reverie Siam – Delicious and Filling
Breakfast is included with your reservations at the Reverie Siam, and it's NOT your typical hotel breakfast. You get SO MANY options to choose from. Make sure you go hungry because there's going to be lots of food. Their master chefs cook up some scrumptious dishes. Like I said, you'll be good to go until dinner time with this breakfast feast!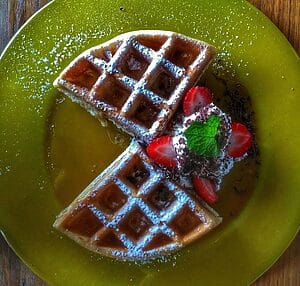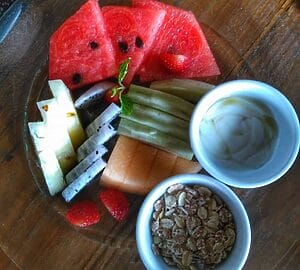 The Swimming Pools
Pai is one of the best places in Thailand with its seemingly unlimited attractions and activities. While there's lots to do in Pai, you should carve out some time to relax poolside when you're staying the Reverie Siam. They provide guests with two options for swimming pools. For those wanting more of a natural feel, there is the stone pool. This pool also gives guests the option of getting a room with direct access to it.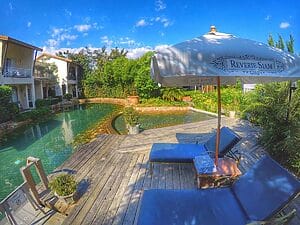 The other pool is more of the traditional style. Spending all day poolside can be an easy thing to do with such an incredible backdrop. Don't worry if you end up spending the entire day here; you can get food delivered with minimal movement from your lounge chair.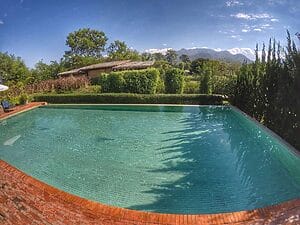 Dinner and Drinks At Reverie Siam
The staff at the Reverie Siam treated us to free drinks and dessert one evening. This generous and kind offer gave us an excuse to experience the Silhouette Bar & Restaurant. We chose to sit at the riverside garden (they have several seating options to choose from depending on what type of atmosphere you are looking for). That night, we happened to be the only people at the riverside lounge. It was the kind of place that makes you wish you could extend the night by a few more hours. A truly unforgettable and dreamy experience.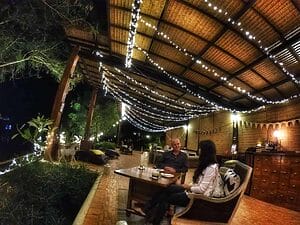 Without any hesitation, we feel that the Reverie Siam is the best place to stay in Pai, Thailand. For anyone looking for places to stay in Pai, this is our recommendation.
Reverie Siam Contact:
476 Moo 8, Vieng Tai
Pai, Mae Hong Son
Thailand 58130
Tel: +66 (0)53699870
Reveriesiam.com
Looking for more cool places to stay in Thailand? Check out our stay in the Treehouse Resort.
Disclosure: The Reverie Siam provided a discount off for our accommodations during our second visit in return for this review post. However, despite the discount, all of the above descriptions and opinions are from our own personal, honest experience and point of view. We would only review a location that we have enjoyed ourselves and think our viewers will also enjoy.
About the Author
Hi! I'm just a California girl addicted to travel and adventure with a passion for art and dance on the side. Born in Iran, but I consider myself a citizen of Earth, adhering to the belief that "The world is but one country and mankind its citizen." I strive to make a positive impact on everyone I meet and learn as much as possible from them. My degree out of college is in Marketing. However, I entered the hospitality business at an early age and worked my way up to hotel management. After about 13 years in that industry (5 of which I was a hotel assistant manager), I made the decision to move to Thailand and leave the 9 to 5 grind behind. My husband and I set off for a life of living abroad and hopes to continue traveling the world, just 3 months after our wedding. It all started with the two of us, along with our cat, together in Thailand. Can't wait to see where life takes us next!