Chiang Mai to Pai by Minibus – Mini Getaway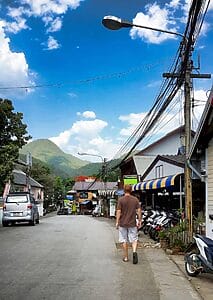 If you are ever in Thailand, visiting Pai is a must. I was fortunate enough to be taken there on a surprise for my birthday (Thanks Rob!) and I must say, it was truly unforgettable. Getting from Chiang Mai to Pai was a fun adventure in itself, an quite inexpensive, too!
Pai is a little town just a bit northwest of Chiang Mai. While I wouldn't go as far as saying that it's a little known, quiet destination, it is definitely not as popular and crowded as Phuket. Pai certainly has it's share of tourists from all around the world. In fact, other than the Thai people who work there, I think everyone else was a foreigner.
I can understand why Thai people themselves may not be inclined to go to Pai for vacation since they just won't be able to get away from all of the "farang." The town is designed to attract foreigners, with all the cafes, guesthouses, restaurants, and the nightly souvenir market. Everything is written in English and geared to please foreigners, like providing an "American breakfast."
However, what sets this destination apart is the quiet and serene nature that surrounds the town. The town is a place to go for meals and accommodations, with the rest of the time being spent exploring the surrounding area.
We spent three amazing nights in Pai at The Reverie Siam Resort. This gem of a resort was truly a perfect place (Chiang Mai has some fantastic resorts surrounding the city). They certainly know how to make you feel pampered there. The property is set in a quiet little corner just a 10 minute motorbike ride outside the main town. With picturesque views of the surrounding mountains, this resort left me breathless at first sight.
The Pai River runs directly behind the property and provides the most peaceful and relaxing backdrop to any lazy day. And if that is not enough, they give you two pools to take a dip in for relief from the heat.
The breakfast that is included was not only plentiful but absolutely delicious! We also took advantage of appetizers by the pool and had my birthday dinner at the Silhouette Bar. Both experiences were nothing short of fantastic.
Getting To Pai On A Minibus
Let me back up a moment and tell you how we got to Pai. Rob purchased the tickets at the terminal across the main bus station in Chiang Mai. The company we used is called Prempracha. Each one way ticket costs 150THB ($5 USD). There are plenty of tour agencies in the Old City that offer tours to Pai as well.
The minibus is actually a van that seats 12 people. It doesn't have much room for storage, so if you plan to go using this service, pack light. While the 3 hour ride to Pai was comfortable and scenic, it is not for those that experience motion sickness. I have always been very sensitive to motion sickness so it took everything I had to keep myself from getting sick.
The ride from Chiang Mai starts out fine, but about halfway in, it starts to get very windy. There is a pit stop after an hour and half where you can use the restroom as well as get snacks and food if you like. I took advantage of this to get myself centered again.
They claim that there is 762 turns on the road to Pai (The road going to Tianmen Mountain in China has 99 bends). I believe them. The second half of the trip there I had to keep my eyes closed, but I am sure the scenery was beautiful.
Pai Attractions To See
While in Pai, we took advantage of watching the sunset from Wat Phra That Mae Yen. The Pai valley looked stunning from this viewpoint and you can't help but take in all the beauty as the sun sets.
Another attraction that is a must see in Pai is the Pai Canyon. Referred to by some as the Grand Canyon of Pai, it does not fall short of being spectacular. There is a lot of hiking to be enjoyed here, but make sure to have proper shoes on as it can get very slippery in some areas. Some of the paths are no wider that a couple of feet, so it's not for the faint of heart. One wrong move and you could end up at the bottom of the valley!
We went to Pai Canyon hoping to catch another sunset, however, a rainstorm crawled in and gave us a thunder and lightining show instead. Nevertheless, the views were breathtaking to say the least.
Waterfalls are also major attractions to visit while in Pai. The one we went to (Pambok waterfall) didn't have a lot of water flow since the time of year was just barely at the beginning of the rainy season. It was still an enjoyable experience hiking to get there.
On the return trip from the waterfall we stopped at the famous Land Split site. The land is owned by a family and has, literally, been split throughout the past 5 or 6 years. It is quiet an interesting site, but what makes it really great is the hospitality you receive from the owners.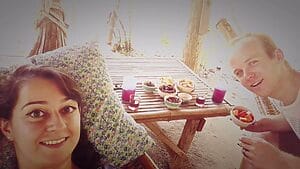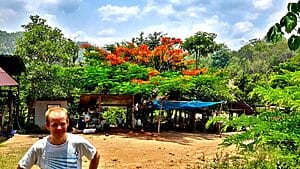 They have a little stand and covered area with hammocks for you to rest and enjoy the peaceful surroundings. While you rest, they print a big tray of goodies for you to enjoy, including organic fruit, jam, and drinks. Once you're there, it's hard to leave. The only thing that they ask is for donations, so feel free to show them how much you enjoy their kindness and hospitality.
There is a nightly market in town and lots of great places to dine. The nightlife is also pretty lively. Some places offer the typical bar experience while other can provide more, it really depends your preference.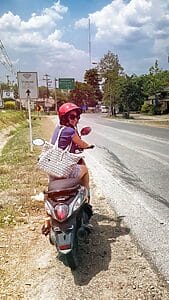 While in Pai, I would recommend renting a motorbike (please only do so if you are familiar with riding one and know the ways of driving in Thailand). Having a mototrbike gives you the freedom to venture out and explore and ads more joy to the whole experience.
Pin It!
About the Author
Hi! I'm just a California girl addicted to travel and adventure with a passion for art and dance on the side. Born in Iran, but I consider myself a citizen of Earth, adhering to the belief that "The world is but one country and mankind its citizen." I strive to make a positive impact on everyone I meet and learn as much as possible from them. My degree out of college is in Marketing. However, I entered the hospitality business at an early age and worked my way up to hotel management. After about 13 years in that industry (5 of which I was a hotel assistant manager), I made the decision to move to Thailand and leave the 9 to 5 grind behind. My husband and I set off for a life of living abroad and hopes to continue traveling the world, just 3 months after our wedding. It all started with the two of us, along with our cat, together in Thailand. Can't wait to see where life takes us next!