Temples Of Bagan Myanmar – Which Are The Best To See?
The ancient temples of Bagan (Pagan) are probably the most popular Myanmar points of interest for visitors. These ancient temples span a vast area along the Irrawaddy River just a little over 600 kilometers north-west of Burma's largest city, Yangon. They are fascinating, elegant, and magnificent to see and exploring the area is an adventure of a lifetime!
The Top Temples In Bagan You Can't Miss
Unless you're planning a very extended stay in Bagan, I don't think you'd be able to get to all of the many thousands of structures that remain in this area. It's hard to imagine that in the thirteenth century, this temple town of Burma boasted over 10,000 Buddhist pagodas and monasteries. Even with the small percentage that is left for us to explore today, it is an overwhelming task. 
You'll want to choose the best ones that you can plan to see during your time in Bagan.
Most visitors are likely to spend 2 or 3 days in Bagan. We asked our friends who had previously visited and they recommended at least 3 days. We were there just under 4 days and, aside from a sunrise hot air balloon ride, went temple sightseeing pretty much the entire time. 
By the way, one of the highlights of our trip was the hot air balloon ride in Bagan and we think is should be on everyone's bucket list!
With a little bit of research prior to our arrival and some chatting with our hotel front desk, we put together a quick itinerary of which pagodas we wanted to make sure to see. (It brought back the memories from the time we explore the Angkor Temples of Cambodia) Additionally, we put together a rough draft of places at which we would be able to catch the sunrise and sunsets in this archaeological zone.
Here's a popular tour to try:
Pro-Traveer Tip: It's a good idea to grab a map from your guest house/hostel/hotel and try to coordinate your stops in somewhat of a linear route. You can save time by not having to backtrack or go in circles.
We have another article full of Bagan, Myanmar Travel Tips. Make sure to read the guide for all of the answers to your Bagan travel questions! 
You may have seen other blog posts mentioning "secret" locations where you can climb to the tops of the temples and watch the sun come up or go down. However, in more recent times, climbing the temples is becoming less and less of an option. It makes perfect sense to ban so many people from going up each day who unknowingly place gradual damage to these historic buildings.
We did make it up a couple of temples that were open to climbing, but I imagine those will soon be off limits as well. 
So, don't put too much stock into it and just go with the flow. Better yet, ask the locals in the area for their advice. 
The list of temples below is not by any means meant to be exhaustive, but just our personal favorite set. These are the temples we would highly recommend seeing while you are visting Bagan, but we would also suggest going off the beaten path (in some cases quite literally). 
No one can really say which temples are the best because everyone's experience will be different based on their own tastes and objectives. We try to organize our list here a little based on size, level of artistry, as well as what we though were interesting characteristics of a temple.
The Best Of The Larger Temples In Bagan
Dhammayangyi Pahto Temple
Known for the best brickwork in all of Bagan, this temples extends 255 fee on each side and dates back to the mid-twelfth century.
The most enormous of the temples in Bagan, the Dhamma-yan-gyi structure can be seen from quite far distances. You may notice it from other temples that are on slightly higher ground and it is definitely visible from the manmade sunset hill.
It has one level with six terraces going up to, what would have been, the stupa which give it a bit of a pyramid appearance.
Dhammayangyi is surrounded by a wall and archways that lead visitors to entrances on each of the four sides. Gautama Buddha (historical) and Maitreya Buddha (future), can be found side by side at the western shrine while each of the entrances have a Buddha image seated on a pedestal.
An interesting thing to note about this temple is that the builder is thought to have been a not-so-nice king trying to atone for killing his family. Not only was the building never finished, but it was packed with rubble and they stopped working on it once the king had died. 
Ananda Paya Temple
Ananda Temple was completed in early twelfth century, making it the first of the magnificent Bagan pagodas. 
This is one of the most stunning temples we had the pleasure to visit in Bagan.
The structure was badly damage during the earthquake of 1975 but has been restored and there are continuous efforts of upkeep to maintain this glorious, perfectly symmetrical (Greek cross), whitewashed, architectural complex.
Shwesandaw Pagoda
Centrally located in between Old and New Bagan areas, the Shwesandaw Pagoda, is an easy one to get to and should be on the list of top temples to see in Bagan.
While it may look like it is would be easy to climb the stairs of it's five terraces to see the sunset, this 11th century building is closed off to visitors. 
You are still able to walk around and admire one of the tallest of the architectural wonders of Bagan.
Dhammayazika Temple
The unique pentagonal shape and golden stupa are just of a couple of the reasons we recommend exploring the Dhammayazika. Another interesting difference is that there are 5 shrines. The additional structure houses the future Buddha.
Take a walk around the site here and you'll notice there's even a bit of a garden which is not found elsewhere around the temples.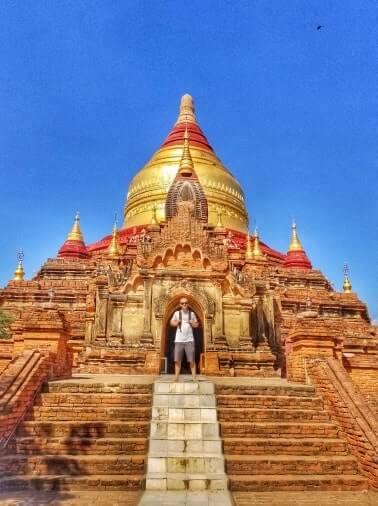 It might seem a little out of the way at first, being West of West Pwasaw Village, but we thing it is worth the visit just to see the beautiful glazed terracotta plaques! 
You may see a smaller temple just around the side which (at this time) climbing was allowed and gave great views of the Dhammayazika.
Htilominlo Temple
Yet another purely magnificent temple, rising three stories, Htilominlo also boasts plaster carvings and glazed sandstone decorations. The plaster moldings make it one of the most elegant structures we saw.
We would recommend stopping by here on the same route as when you are visiting Sulamani and Ananda as they are all within close proximity to each other.
Tallest Of The Bagan Pagodas
Don't make the mistake of missing this temple like we did!
Staying at the Thande Hotel in Old Bagan, we were just steps away from the tallest temple of Bagan and managed to not make it inside fro a visit.
Aptly referred to as "the Omniscient" it stands just over 200 feet with three terraces in the lower section and four in the upper.
As the tallest structure in Bagan, you'll probably notice it from any distance on the plane as you do your sightseeing!
​ 
The Most Intriguing Bagan Temple
Shwezigon Pagoda
You'll have to make your way up to the north eatestern area of Bagan, called Nyaung-U in order to visit Shwezigon Pagoda.
One considerable thing we noticed was how much more busy this area was. It is a more established location with a lot of of a town feel to it. 
With a plethora or restaurants, cafes, guest houses and other amenities, it is a convenient area for tourists.
The 11th century structure has a stupa with several shrines and temples surrounding it. Covered in gold and design that has been replicated throughout the country, this temple is a pilgrimage site for many Burmese people.
It is said that this temples was built to enshrine one of the four replicas of the Buddha tooth.
In order to allow former monarch to see the "hti" (umbrella at the top) without tilting their head back and risking their crowns falling off, a small hole was made in the stone on the eastern side of the pagoda and filled with water. The reflection can be seen if you look from the right angle.
It was the site where the 37 "Natz" were allowed (Now they are located at Mount Poppa). This was significant since Nat worship was, and still is prominent in the country.
There are some "wonders" associated with this pagoda, one of which is that the shadows of the walls don't ever change position. It is also said that if a drum is banged on one side of the structure, it can't be heard on the opposite side. Here are some more interesting things to note about Shwezigon Pagoda.
The Most Artisticly Intricate Temples
Nandapyinnya (Cave)
The somewhat isolated location of this temple, makes it one the least visited. You may find that you are the only one visiting. However, don't be discouraged by the distance you might have to go to see it. 
The artistry that this pagoda offers is stunning to say the least. There's no photography allowed inside in order to help preserve the art. 
Murals and carvings cover the temple's interior, making it one of the most beautiful historic sites in Bagan!
Sulamani Temple
Aside from being a monumental architectural wonder which is frequently visited, this temple holds impressive works of art on its interior.
The walls on the inside of this temple are decorated with frescoes and murals dating from the 12th to 19th centuries! 
Extraordinary carved stucco on moldings preserved in great condition also make it appealing.
Temple Exploring In The Bagan Archeological Zone
Our list of the best Pagodas in Bagan above can be visited in 3 days with an electric scooter.
We took our time driving to these gorgeous buildings as the path to get to them is just as interesting to notice as the temples themselves. At times, we veered off our plans and just followed the dirt road because it looked like it was leading somewhere interesting. It always did!
Our advice would be to not be afraid to just explore. 
You might use this guide as a way to figure out what your favorite places to visit might be. However, there's always something good that comes from just being curious and wandering.
 Pro-Traveler Tip: You might get approached by locals who say they know where the temples for best sunrise/sunset are and you may take them up on their offer. We did not go with anyone, but I'm sure they all mean well and will do their best to take you to a good spot for a nice tip. You can also choose to go with tours from here.
Some of the bigger and more popular temples of Bagan will have vendors lining the entrance paths. These are great places to purchase some souvenirs or snacks. Generally, though, the isolated pagodas offer a more memorable experience. 
Some things to help you on your trip:
What's a pagoda? Well, as you have seen in our article, we used the word interchangeably with Temple. They are essentially the same. A stupa is different, however, being just a dome shaped shrine.
We searched for flights from Thailand to Myanmar and were able to find the best deals here.
We always recommend using Airbnb (get a discount for your first time by using our code) for accommodations but love using Booking as well. 
Travel insurance is always a good idea when going abroad. Get a quote here.
We list our favorite travel gear and products on our Amazon page here.
We hope that your visit to the temples of Bagan in Burma is as special as ours was. Let us know which ones you enjoyed visiting in the comments below!
About the Author
Hi! I'm just a California girl addicted to travel and adventure with a passion for art and dance on the side. Born in Iran, but I consider myself a citizen of Earth, adhering to the belief that "The world is but one country and mankind its citizen." I strive to make a positive impact on everyone I meet and learn as much as possible from them. My degree out of college is in Marketing. However, I entered the hospitality business at an early age and worked my way up to hotel management. After about 13 years in that industry (5 of which I was a hotel assistant manager), I made the decision to move to Thailand and leave the 9 to 5 grind behind. My husband and I set off for a life of living abroad and hopes to continue traveling the world, just 3 months after our wedding. It all started with the two of us, along with our cat, together in Thailand. Can't wait to see where life takes us next!