Re-Entry Permit Chiang Mai Immigration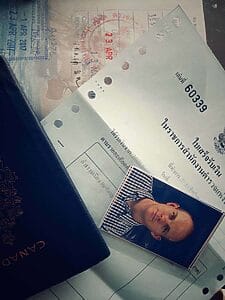 Get a Re-Entry Permit for Thailand so that you don't lose your ability to continue using your Single Entry Tourist Visa or a Single Entry Non-immigrant Visa. A Re-Entry Permit can be efficiently easily requested at the Immigration Office at Promenada Mall in  Chiang Mai. Below we outline everything you need to know about how to get it and all of the documentation and paperwork you will need. We also include some tips and advice to help you make the process smoother and simpler.
Who Needs To Get A Re-Entry Permit In Thailand
We needed a Re-Entry Permit due to the fact that we are on the single entry, Non-Immigrant Education Visa (NON-ED). There was an option to apply for the multiple entry version of this Visa, but at the time, we didn't think that we would be leaving Thailand during our course of being here to study Thai.
Criteria for needing a Thailand Re-Entry Permit: Those who have Single Entry Tourist Visa or a Single Entry Non-Immigrant Visa.
After being in Thailand for about five months (we still had to apply for an extension after every 90 days), an opportunity arrived for us to visit Israel. The International Blogger Conference, called TBEX, was held in Jerusalem, so we jumped at the chance to attend.
To be able to return to Thailand on our original Non-Immigrant Education Visa(which was still valid), we had to apply for the Re-Entry Permit. If we failed to do this, it would have nullified our Visa, and we would have to apply for a new Visa again.
Tip: Only get Multiple Reentry Permit if you plan on traveling outside of Thailand more than once during the 90 days before you extend again. Example: our extension was good until April 23rd, and we were only leaving the country one time before that date. We will get another one once we go and extend past April 23rd and need to leave the country after that time.
The Benefits Of Getting A Thailand Re-Entry Permit
Those that apply for Non-Immigrant Thai Visas face deciding whether to get a single or multiple entry version of the Visa before arrival in Thailand. You'll need to compare the costs (based on how many times you plan or think you may need to exit the country) to determining if a Re-entry Permit is of benefit once you are in Thailand. The price for the Single Entry Non-Immigrant Visa is $80 versus $200 for the multiple entry. The fee for a Single Entry Permit is 1000 THB and 3800 THB for the multiple Reentry. So do some calculations to see what works for your situation before you arrive in Thailand.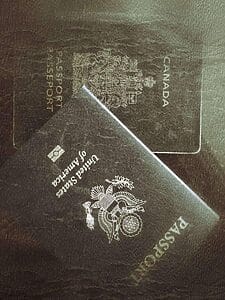 Getting a the permit allows you to continue making use of the Visa that you used to enter Thailand.

You will not have to re-apply for a Visa at an embassy outside of Thailand which means which save you money and time.

You will have the option to leave due to an emergency, an opportunity to travel, or just take a break and visit family and friends that you may miss back home.
If you just leave Thailand once or twice, it is cheaper to get the re-entry permit once you are in Thailand rather that getting the multiple entry Non-Immigrant Education Visa before your arrival (about $55 for each re-entry plus your original $80 as compared to $200).
If you're planning to extend every 90 days for a year and end up needing to leave Thailand more that a couple of times in between each extension, getting the Multiple Re-entry Permit each time (about $110 each time) will certainly start adding up and would not be the best choice.
Where To Go
The Re-entry Permit can be obtained at the Chiang Mai Promenada Mall Immigration Office. This Immigration office is easy to get to and very well organized. There are plenty of signs to direct you once you arrive. Each designated area is clearly marked for its purpose to eliminate the confusion and frustration that sometimes accompanies doing this type of administrative errand.
Address: 192-193 Moo 2, Tumbon Tasala, Amphur Muang Chiang Mai, Chiang Mai 50000
Hours: 8:30 am to 4:30 pm, Mon-Fri excluding Thai holidays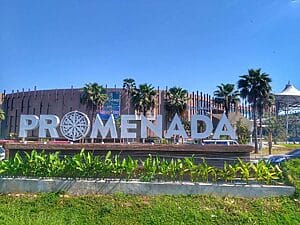 To get to the immigration office, you can take GRAB, Tuk Tuk (most expensive), or Songthaew. Keep in mind that you may have trouble getting picked up afterward with GRAB. We had several drivers accept our pickup request and cancel after a couple of minutes.
Once you arrive at the Main Entrance, go to the information desk and pick up the Re-Entry Permit Application Form. You can also print out the form (TM.8) and complete it in advance to expedite the process.
What To Expect At Promenada Immigration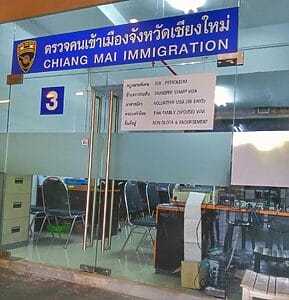 You may run into long wait times and ques when visiting the immigration office at Promenada Mall. Getting there early is key, but going on a Tuesday or Wednesday may also be helpful. Some things to keep in mind for your visit to the Promenada Mall Immigration Office:
There free parking available for motorbikes and cars.
You will have the convenience of having food, drinks, and toilets nearby.
All forms are clearly marked with labels on their bins.
All offices and lines are clearly marked with signs for their purpose.
Additional consideration: The Re-Entry Permit will take up an entire visa page in your passport so make sure you have room!
What You Should Do For The Re-Entry Permit in Chiang Mai
Lines for information desk may be long, prepare all of your paperwork to speed the process.
Dress well. (i.e., no flip-flops or tank tops)
Get there early
Get copies of your passport photo page, visa page, extension stamp page, and departure card (there is a copy place next door to the office. They will know what you need copied if you let them know what you are applying for).
Sign and date each copy.
Get photos: you will need one for the Thailand Reentry Form (The mentioned copy place can take your photo and glue the photo on your completed form for you).
Write your Thai phone number on the application form (there is no official place for it, but they will ask for it towards the bottom left.)
Take the copies (signed) and your complete Thailand Reentry Form with photo attached to the information desk. They will inspect your paperwork and give you a que number.
Take your que number and have a seat inside the large office (They have A/C!) towards the left when you walk in. The Desk you will be called to is at the front left-hand side of the room.
Once you are called up to the desk, you will present the paperwork and payment. They will take a picture of you holding up your que number, and stamp your passport with the Re-Entry Permit.
Some folks might be confused and think that they will need a Thailand Reentry Visa. However, this is not the case. You just need to get a Thailand Reentry Permit. As you can see from the above article, the steps to get this at the Chiang Mai Immigration Office are quite easy and you will get your permit the same day!
About the Author
Hi! I'm just a California girl addicted to travel and adventure with a passion for art and dance on the side. Born in Iran, but I consider myself a citizen of Earth, adhering to the belief that "The world is but one country and mankind its citizen." I strive to make a positive impact on everyone I meet and learn as much as possible from them. My degree out of college is in Marketing. However, I entered the hospitality business at an early age and worked my way up to hotel management. After about 13 years in that industry (5 of which I was a hotel assistant manager), I made the decision to move to Thailand and leave the 9 to 5 grind behind. My husband and I set off for a life of living abroad and hopes to continue traveling the world, just 3 months after our wedding. It all started with the two of us, along with our cat, together in Thailand. Can't wait to see where life takes us next!