First Week Living In Chiang Mai – Recap
This video was taken on December 5th, the King's Birthday.
Here we are enjoying some amazing coffee. Ristr8to is no secret to those who have visited Chiang Mai. There are many great reviews about this place so we had to try it out or ourselves. The coffee is pricey compared to the $2 ones you can get at regular cafes, but, at $4 for a shot glass size, it's a nice little treat. We definitely agree that this is not only great coffee, but a great cafe experience. They take coffee making to a whole new level! So good, I don't even know what to say…
After our coffee break we took a mid-day trip up Doi Suthep to see Wat Phra That. This temple is ranked #4 out of 102 attractions in Chiang Mai on TripAdvisor. It is definitely a must see. The 309 steps it takes to get up to the temple is not as bad as you would expect. The air up in the mountain is cooler and the lush vegetation makes it a relaxing experience.
The ride up took about 45 minutes due to the traffic at the bottom of the mountain by Chiang Mai University. It seemed that there were some graduation ceremonies being done since there were lots of stalls selling flowers and students in gowns could be seen all around.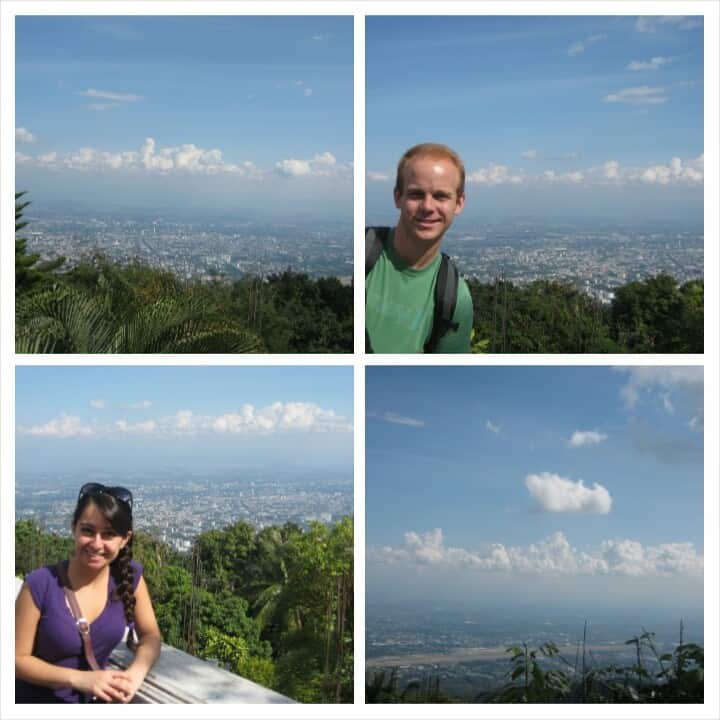 During our first week here we found our go-to spot for lunch. Mayom is just around the corner from where we live and has a simple but delicious menu that can't go wrong.
And for dinner:
And sometimes we just want to eat a burger!
About the Author
Hi! I'm just a California girl addicted to travel and adventure with a passion for art and dance on the side. Born in Iran, but I consider myself a citizen of Earth, adhering to the belief that "The world is but one country and mankind its citizen." I strive to make a positive impact on everyone I meet and learn as much as possible from them. My degree out of college is in Marketing. However, I entered the hospitality business at an early age and worked my way up to hotel management. After about 13 years in that industry (5 of which I was a hotel assistant manager), I made the decision to move to Thailand and leave the 9 to 5 grind behind. My husband and I set off for a life of living abroad and hopes to continue traveling the world, just 3 months after our wedding. It all started with the two of us, along with our cat, together in Thailand. Can't wait to see where life takes us next!