Bringing Your Cat To Thailand
Our little Milton is our family. We lived in Thailand for about six month without him last year. We missed him so much that this time, we had to find a way to bring him along.
At first, the task seemed daunting and so challenging that we almost gave up. However, giving up was not going to be an option because we were going and had no place to keep Milton. Nothing like HAVING to do something to get you to actually do it!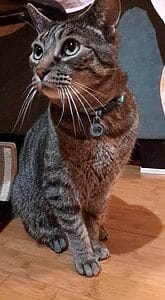 To be honest, there is a lot to do, but you just have to be on top of it and you will have no issues. The biggest takeaway for me was to be organized and methodically in your approach. We did everything ourselves, but, there are agencies out there that can be hired to do all the paperwork. From what I understand, even with those companies helping you, you still have to do some of the work. So, it's not totally hands off. I chose to take care of it myself because I knew that I would have the time. If you work a full time job, it would be a bit more challenging, so that is when getting the the help of an agency may be worth the extra cost.
In A Nutshell
I would suggest getting started at least two months before you plan to fly. Here is the short version of what you will need to do:
Read every bit of information out there on the internet. Most importantly, read the information provided by the government websites of the US as well as Thailand.
See a vet for a general health exam and consultation to discuss your cat's travel.
Make sure your pet is microchipped and every document (proof of vaccination, rabies certificate, health certificate) includes the microchip number.
Get all the kitty vaccinations up to date.
Find an airline that will allow pets on-board and find out what their requirements are (breed restrictions, aircraft restrictions, kennel restrictions).
Book your flight and notify the airline of your cat traveling with you in-cabin.
Get any needed supplies for your cat's travel, i.e. travel bag, pads, treats, etc…
See the vet for a Health certificate.
Get the health certificate endorsed.
Book a pet-friendly hotel or apartment for your arrival.
 The Details – Getting Your Cat Ready For Travel
To get started, I made sure to get all the facts straight. I read blogs of people who traveled with their pets to Thailand. I watched YouTube videos that people created regarding this subject. I just really wanted to get information from all the sources that are available so that I could get a better picture of people's experiences and suggestions.
If you do nothing else, you MUST visit the USDA website on pet travel as well as The Royal Thai Embassy website. These are two key pages with all of the information you will need to ensure you meet the requirements necessary for taking your pet into the Kingdom of Thailand.
The USDA Pet Travel page advises that you must meet with your vet (make sure your vet is USDA – APHIS accredited because this is required by Thailand)  to complete the necessary vaccinations for your pet, depending on the destination. One of the reasons for seeing your vet a couple of months in advance is that some vaccines have to be done at least 21 days before traveling with your pet (i.e. Rabies vaccine).
Their page also allows for you to pick the destination of travel from a drop down list to find the website for the pet import requirements of that country. They also give you the contact information for the National Import/Export Services, listed by state. This list is extremely helpful in finding who you can contact with questions and concerns. The location in California is:
10365 Old Placerville Rd.,
Ste. 210 Sacramento, CA  95827‐2518
916‐854‐3960
Sacramento.vs.import.export@aphis.usda.gov
The USDA website is a great starting point because they give you all of he links for everything else you may be required to read or comply with. They have a great video for pet travel advice (less that 3 minutes long) that I highly recommend watching. If you feel confused or need more information, check out their Frequently Asked Questions page. I, literally, printed all of this out and read it a couple of times and took notes (mainly to make a checklist of everything so I don't forget).
The Royal Thai Embassy website lists exact requirements for importation of dogs and cats into the Kingdom of Thailand. You will need to complete the form that they provide for the Thai Department of Livestock Development. You will be emailing this completed form to the Thailand authorities in order to receive an import permit. You will also need this form when you land in Thailand and meet with the office at the animal quarantine station.




1.Contact the Thai Department of Livestock Development via email at qsap_bkk@dld.go.th (no more that 60 days prior to traveling) and provide them with:
in the body of the e-mail

Your US and Thailand address
Your travel itinerary
Name of port of exit from your country
details of your animal (such as type of breed, sex, age, microchip etc.)

attached to your email:

the application form Rore. 1/1 (ร. 1/1)
a scanned copy of your passport
a photo of your pet
proof of vaccination for your cat ( vaccinated at least 21 days prior to their departure) against – Rabies, Feline Panleukopenia Virus (FPV) – Milton got the FVRCP Triennial vaccine, which includes this)(Dog  – Rabies, Leptospirosis, Distemper, Hepatitis, and Parvovirus (also  subjected to tests for Leptospirosis with negative results during 30 days prior to departure)
It will take about three days for them to reply with an import permit. The permit is valid for 60 days. Print a few copies of this in color if you can. I placed one copy in my files and one attached to the carrier.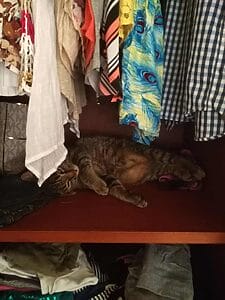 2.Get the health certificate (APHIS form 7001) completed by your accredited vet and endorsed by the USDA (No more than 10 days prior to traveling).
I visited the Sacramento location mentioned above in person. You can also overnight them the required paperwork along with a self addressed overnight envelope (pay for the return shipping).
At the time I contacted them, they did not require appointments. So, I walked in during their business hours and waited about 20 minutes (no one else there but me) to get the endorsed health certificate.
You will need to take the completed application form Rore. 1/1 (ร. 1/1)
Proof of vaccination for Rabies and FPV
lab results for intestinal parasites showing negative results.
Microchip certificate
I also took the import permit along.
Once you receive your endorsed health certificate, make a few copies of it. I attached one copy to the pet carrier and had the original in my files. They will take the original from you at the airport when you land in Bangkok.
What To Pack For Your Cat On The Flight
Since the cat carrier is considered a carry-on by Delta, I was only able to have another, "personal item," along with me. I made sure to have all of my paperwork in my purse. In the pockets of the cat carrier I put a small bag of snacks and a backup pad in case I needed to change it for Milton on the flight.
Previous to putting Milton in his carrier (a few days before the flight), I had sprayed with inside of the bag with calming spray several times a day. You can find these sprays in the pet store. It is recommended that you do not sedate your cat. According to my vet, cats just hunker down in their bag, so they do not need a lot of space and will tend to just stay put since they don't know what's going on. I believe that the calming spray did help, because Milton get's a bit tired of his bag and restless during long periods of time inside it but he seemed "chill" for 98% of the flight.
I placed a "Breeze" cat absorbent pad under Milton in his carrier bag. I would suggest finding a way to secure it as it can move around and bunch up. Taking some wet wipes may come in handy for both you and your pet.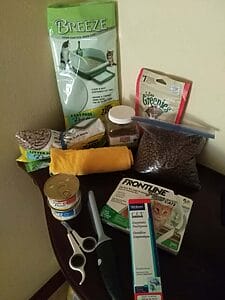 In our checked luggage I packed:
About 1 week worth of dry cat food
Five canned wet cat food
A small bag of Tidy Cat litter pellets
A Travel litter box that collapses
small container of cat nip
brush
one toy
a packet of snacks
small towel
nail clippers
flea medication
cat tooth paste and toothbrush

Side note: going through the airport security with your pet may be tough for some. You will have to take your pet out of the bag and carry it with you through the metal detectors while the bag goes through to be scanned. We put all of our bags through to be scanned and asked that they give us a private room to take Milton out of his bag. They took Milton while he was in his bag as we walked through the x-ray machines. Then, we went into the private room with all of our stuff and took Milton out. They took his bag to get scanned. It took a couple of Minutes and Milton was back in his bag and done. It was both easier on him and us this way.
On The Plane
Milton had to stay inside his bag for the entire flight. I placed the bag under the seat in front of me and it fit without any issues. Occasionally, during the flight I placed the bag on my lap and talked to him so that he knew I was with him, hopefully, feeling more secure.
His pad never needed a change. I think he was just too nervous and scared to go potty. I also tried to give him some snacks along the way, but he never touched them. A couple of times I poured a small amount of water in a dish and offered it to him from the side opening of his bag. He never wanted to drink, either.
My main concern was that he felt safe. I tried to pet him as much as possible from the top opening of his bag. He never really showed any interest in wanting to come out, but I think he liked getting the attention.
Once You Arrive In Thailand
So you have prepared for a few weeks and made it through the approximately 22 hour flight from the US to Thailand. Once you land, you will need to go directly to the Animal Quarantine Office at the Suvarnabhumi Airport in Bangkok. Their office is right by the luggage carousels, so grab your luggage, put everything on a cart if needed, and roll on over there with your paperwork handy.   You will present them with:
Application form(Rore. 1/1 (ร. 1/1))
Endorsed health certificate
Import permit
Rabies certificate and proof of vaccinations
They will ask to see your passport and make a copy of the first page. You will spend about 20-30 minutes there while they do their paperwork and stamp everything. Before you leave, you will be asked to pay the 200 THB (less that $6USD) import fee and they will provide you with a receipt.
The whole process was painless (considering we had been traveling for almost 24 hours and landed around 10pm) and the people there were friendly and courteous. They gave me an "Import License" which is all in Thai along with information on what I will need to do when exiting the country with my cat (this is in English).
After completing this process, we still had to go through customs. Here we had to declare that we had an animal with us. There is a cost of 1000 THB (just under $29USD) for the cat going through customs. We were told that it is a one-time fee and that if we came again next time with a cat, we would just need to show the receipt of payment.
The Flight To Chiang Mai With Our Cat
We booked our flight with Delta to Bangkok because in attempting to book it all the way through to Chiang Mai, we ran into the issue of not being able to have Milton with us on-board. By Booking it from San Francisco to Bangkok, we were able to have him on-board the flight with us the majority of the way.
According to our research, flights within Thailand do not allow pets on-board. We booked the hour flight from Bangkok to Chiang Mai on Thai Airways, knowing that Milton would have to be checked in as cargo. The hour flight seemed short enough to be tolerable by both Milton and us.
We checked in his bigger crate at the beginning of our journey so that we would have it for him in Bangkok. We spent one night in Bangkok and the following day, put Milton in his crate. How to prepare the crate:
In his crate I placed a cushion (cat bed).
Attached "live Animal" stickers to the sides.
I had also sprayed the crate with the calming spray at the begging of our trip.
Attached to his crate was a pouch containing his documents (microchip certificate, copy of health certificate, copy of import permit, copies of vaccinations, his photo, and my contact information).
I used zip ties to secure all "doors" of the crate.
I did not need to attach a water and food container as this was such a short flight.
Upon arrival in Chiang Mai, we waited at the luggage carousel for him. He was the first item they put on their so all of the passengers got a chance to see him come around. He was quite the celebrity and many commented at how cute they thought he is. He seemed a bit shaken up, but overall, in good shape.
Our taxi ride cost about twice as much because we had a pet with us. It seems that, while Thailand is quite pet friendly, they do like to charge extra for everything (rent, taxi ride) because you have an animal with you.




Our Cost For Taking A Cat To Thailand
The below costs are in approximate US Dollars.
Delta Airplane "ticket" – $200 (paid at check-in)
Vet visit for consultation, exam and vaccinations – $243
Intestinal Parasite Lab – $60
Vet visit for Health Certificate – $147
Health Certificate endorsement – $38
Cat carrier- $120
Cat crate – $35
Thai Import Permit – $6
Customs Fee -. $29
Thai Airways Excess Baggage Fee – $20
---
TOTAL = $790
---
Taking Your Cat Out Of Thailand
I have not yet experienced taking my cat out of Thailand. I will give you the information that was given to me at the airport in Bangkok. To receive an export permit:
Rabies vaccination 30 days prior to departure
Vaccination certificate
Passport of owner
Import permit (you may need to request a new one as they are only good for 60 days)
The animals have to be inspected for health conditions at the office of Animal Quarantine Station, 3 days prior to departure
Payment of 50THB for either cat or dog
The export license and health certificate will be issued once the above are completed. The Suvarnabhumi Airport Animal Quarantine Station information is as follows:
Suvarnabhumi Airport Free Zone (Cargo)
Customs Export Clearance Building (CE-1), 1st floor
Samut Prakan Province, 10540
Tel: 0-2134-0731
Fax: 0-2134-3640
email: qsap_bkk@dld.go.th
open 8:30am-12pm and 1pm-4:30pm
Closed Saturday and Sunday and Public Holidays.
As always, You will need to be prepared for the country you are taking your cat to from Thailand. Make sure to check the requirements for the country your are entering and get started on gathering all of the paperwork in advance to avoid your animal being placed in quarantine or denied entrance.
Pin it!
Do you have any pet travel experiences you would like to share? Feel free to write us any comments or questions!
About the Author
Hi! I'm just a California girl addicted to travel and adventure with a passion for art and dance on the side. Born in Iran, but I consider myself a citizen of Earth, adhering to the belief that "The world is but one country and mankind its citizen." I strive to make a positive impact on everyone I meet and learn as much as possible from them. My degree out of college is in Marketing. However, I entered the hospitality business at an early age and worked my way up to hotel management. After about 13 years in that industry (5 of which I was a hotel assistant manager), I made the decision to move to Thailand and leave the 9 to 5 grind behind. My husband and I set off for a life of living abroad and hopes to continue traveling the world, just 3 months after our wedding. It all started with the two of us, along with our cat, together in Thailand. Can't wait to see where life takes us next!