The Perfect 10 Day Italy Itinerary
​Planning a trip to Italy can be overwhelming thanks to all of the amazing attractions and natural beauty available all around the country. We've put all of the essential must-see places into this 10 day Italy itinerary so you can be sure you'll get the best of your trip! We include a visit to the top places in Italy: Rome, Florence, Pisa, and Venice.
You can also customize this for a great plan to spend one week in Northern Italy. All you have to do is shorten your stay in each place by one day. On the other hand, if you want to extend it to two weeks in Italy, we suggest you just add an extra day to each of the cities listed below. Whether your vacation is a week, ten days, or two weeks, we know you'll love this itinerary because we experienced it ourselves and can say it was unforgettable!
Cities You Should Include In Your Italy Trip 10 Day Itinerary
Rome - The capital of Rome is a must visit for anyone traveling to Italy. You just can't miss all the great historically significant architecture and sites that are packed into this city.
Florence - Get ready to see some serious art in Florence. The magic of the Renaissance still resonates in every corner of this town and you'll be blown away by what you can find in the museums. Get ready to be enveloped in history and art!
Pisa - You guessed it! The Leaning Tower in Pisa is a quick day-trip from Florence and easy to fit into your plans, especially if you have a two week itinerary for your vacation in Italy.
Venice - The romance is just oozing out of every little floating island in Venice. Ride gondolas, cross cute little bridges and take delight in the colorful and ancient historic buildings that seem to just pop out of the water.
How To Plan Your Italy Trip To Make It An Unforgettable Vacation
Spend one week exploring Rome and Florence with a quick day trip to Pisa.
Day 1 - Spanish Steps, Trevi Fountain, Pantheon
You can refer to our article on the details of what to do in Rome for 4 days. The best spots to check out on your first day in Rome are all within walking distance of each other. This is a great way to get a feel for the city and get your bearings. Make sure you book an Airbnb in the heart of the city for the ease and convenience of getting around.
If you're like me, you'll be blown away by the sheer size of the Pantheon and the Trevi Fountain. The grandness of these structures demands consideration and certainly justifies their importance. Additionally, there are few places around the world where you can walk by such ancient buildings in the middle of a modern city!
Here's a little insider tip: Get the Omnia Vatican & Rome Card. Click the link below to purchase this before your trip and you'll be happy you did! We used this card and got access to so much (and, of course, saved a lot of money!!). Getting to skip lines was also a HUGE time and energy saver! We really recommend getting this pass: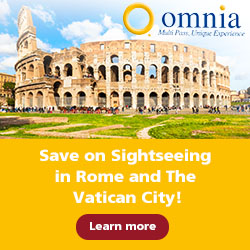 Day 2 - Vatican City: St. Peter's Basilica, Vatican Museums, Sistine Chapel
Once you've settled a bit in Rome, you'll want to get ready for a whole day exploring Vatican City. The Vatican museums alone can take an entire day to see! You'll have to purchase your tickets in advance and make sure your timeslots don't overlap. Space them out and make sure to give yourself some time for a break in between.
Day 3 - Colosseum, Roman Forum
Start your third day in Rome with a good breakfast so you have the energy to walk around all day. Trust me! There's a lot of walking involved when you're visiting the Colosseum. Luckily the Roman Forum is right by the Colosseum so you'll get there quickly.
Check out these awesome tours that we recommend:
While visiting the two iconic attractions, make sure you stop by The Arch of Septimius Severus, Arch of Titus, and Arch of Constantine.
If time permits climb up Palatine Hill to get views of the Roman Forum on one side and Circus Maximus on the other. This is a day at the Roman ruins that will leave you in absolute awe!
Day 4 - Piazza Venezia, Castel Sant'Angelo
Finish off your stay in Rome with a day catching up with some of the other great sightseeing around town. Pizza Venezia is a hard one to miss considering it is a very prominent location at the intersection of several avenues. The Vittoriano and its white marble also make it stand out from the other buildings. The site of Italy's Tomb of the Unknown Soldier is located here and it was from Palazzo Venezia that Dictator Benito Mussolini gave his speeches.
Castel Sant'Angelo can be reached by crossing the bridge bearing the same name. The scenery from Ponte Sant'Angelo is one of calming beauty. It is a nice location to gaze out from while reflecting on the incredible ancient places you have seen in Rome in the previous days.
You'll be impressed by the cylindrical building of the Castel Sant'Angelo but do pop in and check out the museum and its wonderful offerings.
For a bonus treat, grab a seat at a cafe located in Pizza Nova. Watch as people swirl by the gorgeous fountains in the piazza: The Fountain of the Moor, Fountain of the Neptune, and the Fountain of Four Rivers.
Day 5 - Ponte Vecchio, Shopping At The Markets
We suggest taking the train from Rome to Florence. We enjoyed the scenic train ride to Florence and were even able to get some work done on our laptops!
After getting settled into your accommodations, head over to Ponte Veccio. It's hard to image that at one point there were butcher shops on this famous bridge. Nowadays, the path is lined on both sides by brand name, pricey, jewelry and watch shops.
The sunsets here are pretty epic if you can time it just right!
Day 6 - Florence Cathedral in Piazza del Duomo, Uffizi Gallery
Piazza del Duomo is bustling with tourists throughout the day, but if you go early in the morning, you'll be able to get a slightly less crowded version. Either way, the area is full of good vibes and surrounded by restaurants and shops galore!
This place is great for just hanging out!
We went to the Uffizi Gallery per a friend's suggestion and glad we did! Aside from an immense collection of art the windows here provide beautiful views out over the river and bridges of Florence!
Make sure to get your tickets and know your entrance time in advance so you can plan the rest of your day accordingly.
Day 7 - Day trip to Pisa, Statue of David
We were torn between staying the full day in Florence and going on a quick trip to Pisa.
There's loads to see and do in Florence but we just had to go see the Leaning Tower of Pisa.
In order not to miss seeing the Statue of David, we booked out museum entrance time in the late afternoon.
Thanks to an early start at 8am, we were able to go to Pisa and return to Florence just in time to make it to Galleria dell'Accademia.
Head to Venice to finish off your 10 day itinerary with a bang!
Day 8 - Explore The Alleys & Shop
We recommend taking your first day in Venice as a day to stroll around and just get lost.
Seriously!
Get lost in the alleys as you meander along the canals and see how unique this city truly is!
Getting an authentic mask is a must in Venice! Just make sure you go into the right store. You don't want to be bringing back a mask made of plastic!
Day 9 - Walking Tour, Gondola Ride in the Grand Canal
Gondola rides aren't cheap, but they sure are worth it! If you share with a bigger group you might be able to save a little, but try not to miss this experience if you can!
Here's where you can get your gondola ticket for a great price!
Free walking tours are a great way to get to know a bit more about this city. It's fascinating to learn about the architecture and the famous buildings here!
Day 10 - Piazza San Marco, Saint Mark's Basilica, Doge's Palace
Piazza San Marco area is probably the most touristy part of Venice, but for good reason. Saint Mark's Basilica and Doge's Palace so make sure you check them out!
About the Author
Hi! I'm just a California girl addicted to travel and adventure with a passion for art and dance on the side. Born in Iran, but I consider myself a citizen of Earth, adhering to the belief that "The world is but one country and mankind its citizen." I strive to make a positive impact on everyone I meet and learn as much as possible from them. My degree out of college is in Marketing. However, I entered the hospitality business at an early age and worked my way up to hotel management. After about 13 years in that industry (5 of which I was a hotel assistant manager), I made the decision to move to Thailand and leave the 9 to 5 grind behind. My husband and I set off for a life of living abroad and hopes to continue traveling the world, just 3 months after our wedding. It all started with the two of us, along with our cat, together in Thailand. Can't wait to see where life takes us next!