Wat Lok Molee
This temple is a nice little surprise that caught my eye one day as we were zooming past on the motorbike. It's no wonder that they rate it a 6 on Tripadvisor! Once you enter this area from the busy street on the north side of the Old City, you are taken into a quiet, serene realm that makes you never want to leave.
Being a bit farther out of the Old City makes this a less visited temple by tourists. Most visitors in Chiang Mai tend to stay in hostels or hotels right inside the Old City Moat. Staying in that location makes it convenient to walk to dozens of temples within that area.
Wat Lok Molee Location
That being said, taking a Songthaew or Tuk Tuk just about ten minutes from Tha Pae gate, you'll be able to enjoy a less crowded temple.
Address: Si Phum, Mueang Chiang Mai District, Chiang Mai 50200
The temple is usually open from sunrise to 5pm.
Wat Lok Molee is just a little west of the Chang Phuak City Gate. Sometimes referred to as "North Gate" this is also where the nightly street food stalls are set up. If you've ever watched that Anthony Bordain episode on Chiang Mai, you may recognize the "Cowboy Hat Lady" with her very popular food stall that is always packed.
Getting to this Wat is easy and cheap if you take a Red Truck. Tuk Tuks may cost around 100-200 THB, but a Songthaew, or Red Truck, will be 20 THB. Alternatively, you may rent a motorbike and ride here quite easily.
If you are in this area, it's worth driving a bit further west down the main road, Huay Kaew Rd., to the Nimman neighborhood. You will see a very large, modern shopping mall and turn left on Nimmanhaeminda Road. This hipster neighborhood is great for tasting some amazing coffee or browing in the boutique shops.
Visit Lok Molee Temple
The details of the architecture alone can keep you mesmerized for hours. The compound consists of so many wonders that can be overwhelming at first. Once you pick a direction and start walking, it can be easy to miss some things so going for a second or third round is recommended.
This Budhist Temple contains a very large Chi that was constructed in the 14th century and is quite impressive to see up close.
Containining the ashes of several Kings of the Mengrai dynasty, this chedi is a must see in Chiang Mai. This temple was deserted when the city of Chiang Mai was abandoned in the 18th century, but a couple of centuries, it was restored and renovated.
I'm glad I carry my camera with me at all times because capturing this place is a must!
I highly recommend this temple during your visit to Chiang Mai. It is one of the most beautiful Wats that I have seen in Thailand!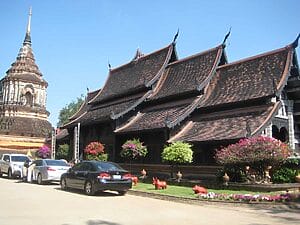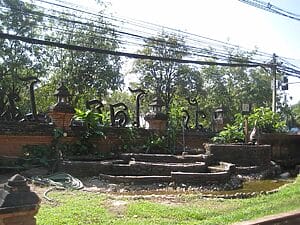 About the Author
Hi! I'm just a California girl addicted to travel and adventure with a passion for art and dance on the side. Born in Iran, but I consider myself a citizen of Earth, adhering to the belief that "The world is but one country and mankind its citizen." I strive to make a positive impact on everyone I meet and learn as much as possible from them. My degree out of college is in Marketing. However, I entered the hospitality business at an early age and worked my way up to hotel management. After about 13 years in that industry (5 of which I was a hotel assistant manager), I made the decision to move to Thailand and leave the 9 to 5 grind behind. My husband and I set off for a life of living abroad and hopes to continue traveling the world, just 3 months after our wedding. It all started with the two of us, along with our cat, together in Thailand. Can't wait to see where life takes us next!