Our Songkran Experience In Chiang Mai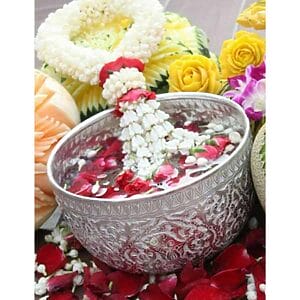 This month, from the 13th to the 15th of April, we had the pleasure of witnessing how the Thai people celebrate their new year here in Chiang Mai. The Songkran Festival was a terrific experience for us!
We have celebrated new year four times in the past five months of our time in Thailand. That's right, it's been quite fun! We started out with ringing in the new year on December 31st as the clock struck midnight. The Chinese New year was experienced in  February, followed by our own celebration of the Persian New Year in March.
What Is The Songkran Festival?
I do want to take a second before going any further and let you all know that I am not promoting Songkran as the "let's throw water at each other and get drunk" holiday of Thailand. Sadly, this may be what some foreigners may perceive it as if here on vacation. It is important to always respect the traditions and festivities of any culture around the world, especially if you are on their land. A little bit of research on the background and understanding can really help to make sure, as a foreigner, no one is disrespected.
Songkran is based on the passage of the sun from one Zodiac to another. Specifically, the sun entering the sign of Aries. The occasion is in keeping the Buddhist/Hindu solar calendar and water runs deep in the traditions of this time of celebration. The traditional  rituals are quite different from what is seen on the streets today. Water, both a symbol of cleansing and renewal would be sprinkled from a silver bowl on a Buddha image. In addition to the cleansing of the Buddha images,  there is also the sprinkling of water by younger people on the older people as a tribute of respect and for blessings.
What To Expect On Songkran In Chiang Mai
Today, the "sprinkling" has gone a bit further, to say the least.
During the three days that Songkran is celebrated, the entire city of Chiang Mai seems to be outside. There is no specifically designated area where the celebrations occur. Although, the epicenter of it all is the moat that surround the old city. Don't be surprised, however, if you are in one of the little alleys and someone dumps a bucket of water on you as you drive or walk by.
On the first day, we decided to go find a big swimming pool somewhere to take a dip and get some sun. Well, we knew Songkran had started, but had no idea what to expect. Needless to say, five minutes into our motorbike drive we were absolutely drenched in water. Fortunately, none of our electronics were damage as we have forgotten to put them in the plastic pouches we had purchased.
It is the liveliest time of the year. The Thai people are generally very reserved and quiet. During Songkran, though, they were not shy about showing their happiness. The energy and vibe that is felt in the streets made me reminiscent of my first time at Disneyland as a kid. Everyone is smiling and happy. Even more happy when they get the foreigners wet with ice water!
It felt like we were kids in a city-wide water fight for three days. The second day, we walked all around the moat. THe festivities were in full swing. There were stalls with food as well as stalls selling all sorts of water guns, plastic pouches to keep your items dry, and goggles and other paraphernalia.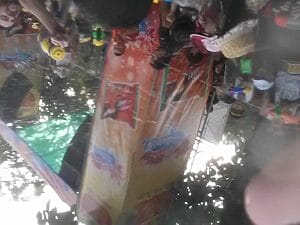 Where To Go For Songran In Chiang Mai
Several stages were set up, especially at the famous Tha Phae Gate, with people singing and dancing. The ones on stage were also tasked with the continuous down-pouring of water on the audience below.
Children had buckets on strings to help them get water from the moat to splash on anyone walking by. There were even people swimming in the moat. The streets were packed with pickup trucks full of people in the back. Those in the back of the truck sat happily with a barrel of water shooting with their waterguns or dumping buckets of water on motorbike drivers as well as pedestrians.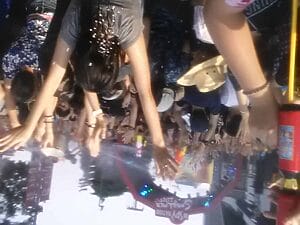 On the final day of celebrations, we stayed in our local Nimman neighborhood. Here, the streets were line with people waiting with their waterguns and buckets to get any passersby. On the busy intersection of Nimmanhaemin and Huay Kaew Roads, in front of the Maya Mall, a huge stage was setup with DJs and dancers. Of course, there were plenty of folks on all sided of the stage splashing water on the audience (who also sprayed each other).
I think I can speak for both of us and say that this was one of the best holidays we have ever experienced. We hope that if you ever get a chance, you can experience it as well.
About the Author
Hi! I'm just a California girl addicted to travel and adventure with a passion for art and dance on the side. Born in Iran, but I consider myself a citizen of Earth, adhering to the belief that "The world is but one country and mankind its citizen." I strive to make a positive impact on everyone I meet and learn as much as possible from them. My degree out of college is in Marketing. However, I entered the hospitality business at an early age and worked my way up to hotel management. After about 13 years in that industry (5 of which I was a hotel assistant manager), I made the decision to move to Thailand and leave the 9 to 5 grind behind. My husband and I set off for a life of living abroad and hopes to continue traveling the world, just 3 months after our wedding. It all started with the two of us, along with our cat, together in Thailand. Can't wait to see where life takes us next!