LaLaanta Hideaway Resort Review – The Most Relaxing Stay in Koh Lanta
This article is for those looking for where to stay in Koh Lanta for a relaxing getaway. The LaLaanta Hideaway Resort is one of the best places to stay when visiting Koh Lanta, Thailand. Perfect for a relaxing family vacation or calm and romantic couples retreat. Here is a full review of the resort and all of their amenities.
Why Stay At LaLaanta Hideaway Resort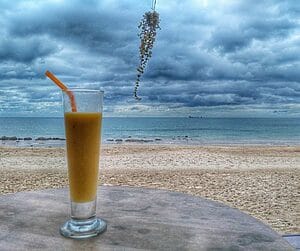 There's a reason they call it a "hideaway resort." When you stay here you really feel like you have left the rest of the world behind. Just getting to the place will make you realize how hidden and secluded this property is. If there's one main reason to pick this place for your vacation it would be to enjoy a real GETAWAY. I mean you really get away from everything!
As you leave the main road that connects the island and it's inhabitants, you'll be driven on a dirt path leading through a lush jungle. You'll be transported to what seems to be a desert island on it's own. With the tropical rainforest, literally, surrounding you here, you are disconnected from the rest of the island.
It's perfect for those that may have a week-long (or more) itinerary around Thailand. After traveling on planes, buses, trains and ferries, having to be in close quarters with a million other tourists, the LaLaanta Hideaway Resort is the perfect place to just chill. Stretch your legs. Get some peace. You are able to unwind and totally relax with hardly any other people around.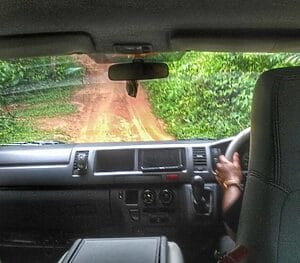 Visiting Koh Lanta in peak tourist season is not what we would call relaxing, but being here felt absolutely sublime. While the resort was likely fully booked, it seemed to us as if there were only about a dozen other people around at the most.
Have I mentioned that they have their own beach? How could I forget! This is one of the best aspects of staying at LaLaanta Resort. A beautiful and vast beach all to yourself, well, maybe just a couple of other people, too. Like I already mentioned, because of where the resort is situated, the beach is VERY quiet. You have the jungle to one side and a cliff that juts out on the other with volcanic rock surrounding it, so it acts as a natural wall and barrier. This beautiful private beach alone can be reason some might love their stay here. The swimming here was absolutely amazing with shallow and calm waters, one could float for days…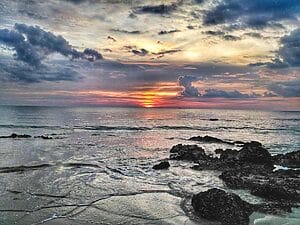 La Laanta Resort Rooms Are Spacious and Comfortable
At the La Laanta Getaway Resort you feel like you are staying in a jungle retreat where you have the peace and quiet of camping in the jungle with the luxury and comfort of staying in a secluded resort. The rooms are designed in a cottage or bungalow style. Even the rooms that are part of one bungalow have the feel of being separate and on their own.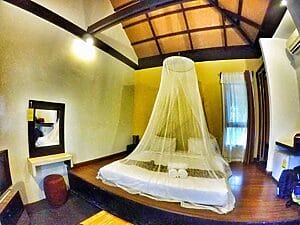 The accommodations are spread across a slight downward hill that leads directly to the beach at the edge of the island. Throughout the property you'll find ponds and small bridges along with a couple of steps here and there. It seems as the rooms are randomly placed which gives the resort more character and personality. Additionally, the typical "cookie cutter" feel that is there with most resorts is diminished at this location thanks to the playful and "natural" design of this property.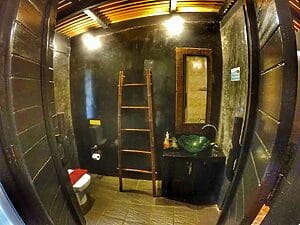 Our room seemed to have a natural "coolness" to it due to being shaded by trees all around. The cool and calm effect is also heightened by the dark stone colors used in the bathroom. I almost felt like I was back in Bali!
We really enjoyed the high ceiling and spaciousness of the room. There is plenty of space to set your things, dress, and relax. You even get a desk if you need to do some work on a laptop. The spaciousness is helped by the amount of room that you get on the balcony and entrance to the room. You can enjoy some relaxing on the chairs that are on the porch or use the area to get together and plan the day with others that you may be traveling with. It's also a great spot to hand wet clothes and shoes, freeing space in the bathroom!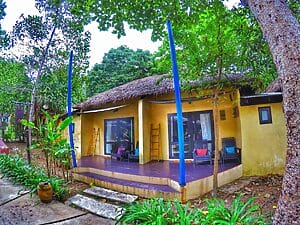 The bed provided a very comfortable and peaceful place to rest after a long day out snorkeling. The drop down netting provided for the bed made it especially comforting, knowing that the bugs would't be bothering you throughout the night.
Having a mini fridge and electric kettle were a nice bonus to the accommodations. I always appreciate hotels that offer these amenities because it helps feel a bit more at home. Having a place to keep half drunk beverages cool and the ability to make a hot cup of tea gives the place less of a hotel feel.
Resort Amenities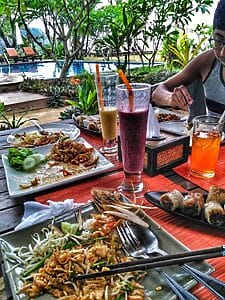 Restaurant and Food – It was very convenient (and almost necessary) that the resort has an on-site restaurant. It is not that easy to drive down to the local restaurants and shops in town because of the secluded location of the resort. While you can rent motorbikes from the hotel and venture out whenever you like, it just didn't appeal to us (basically, we were too lazy and were enjoying the resort too much to leave.)
Although we appreciated not having to leave the property, the food was not that exciting to our palettes. Having lived in Chiang Mai and been spoiled by the fantastic restaurants of Nimman along with the tasty street food, we were disappointed at the bland nature of the dishes here. Don't get me wrong, the food was O.K., but our expectations were a bit higher.
Additionally, we got pretty tired of the menu after the second night, but lacked the enthusiasm and energy to venture out and look for something different.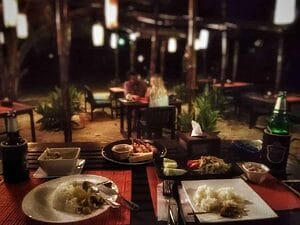 Pool – We loved the pool and spent a lot of our day swimming and playing during our 3 day stay. The location of the pool is the best part as it looks right out at the beach. It's located near the restaurant and the volleyball court, but with the surrounding jungle you may as well feel like you are in a secluded pond.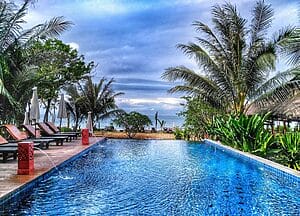 Beach – As I mentioned before, the beach is absolutely my favorite part of staying at the LaLaanta Resort. They have this beach all to themselves and so can you when you stay there. I'll just let the photos below do the talking on this one.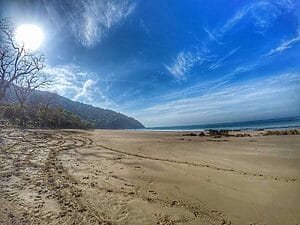 Staff And Service – Every employee of this resort that we encountered was not only nice and hospitable, it genuinely friendly and caring. We didn't feel like tourists, but rather, like we were guests. It's always a nice feeling when you are treated with such warmth at a resort.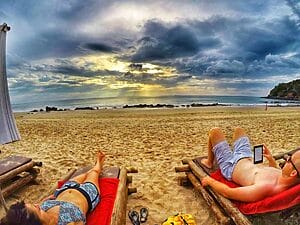 Our Review Of LaLaanta Hideaway Resort
To sum it all up, we loved how peaceful and relaxing our stay was here. The beach was the highlight of the entire stay. Coming from Koh Phi Phi, it was a nice change of pace. To be able to walk up and down the beach and not really run into anybody is pretty nice. Having the jungle surrounding made it even more enchanting. The water was perfect for swimming. Even on a cloudy day with some sprinkles, we managed to have a nice dip in the water. Super enjoyable.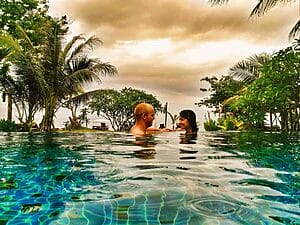 We would recommend this location for those with small children and families who want to have some room for their kids to run around and have a good time. Furthermore, we would also recommend it for couples looking for a romantic getaway where they can get a chance to get close and have no distractions.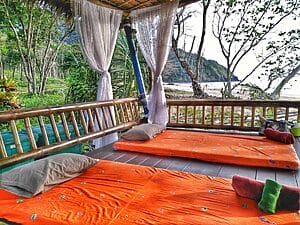 Pro-tip: get an hour-long oil massage on the beach. You'll thank yourself for it!
Disclosure: We were given a small discount for our stay in return for writing this post. All of the opinions stated above are our own. We only review hotels and resorts if we feel they will be good places for our viewers and only write about locations that meet our high expectations as guests. Please note that this is not a sponsored post, but the links above may include affiliate links. If you make a purchase through one of our links, we could get a small commission at no extra cost to you. 
About the Author
Hi! I'm just a California girl addicted to travel and adventure with a passion for art and dance on the side. Born in Iran, but I consider myself a citizen of Earth, adhering to the belief that "The world is but one country and mankind its citizen." I strive to make a positive impact on everyone I meet and learn as much as possible from them. My degree out of college is in Marketing. However, I entered the hospitality business at an early age and worked my way up to hotel management. After about 13 years in that industry (5 of which I was a hotel assistant manager), I made the decision to move to Thailand and leave the 9 to 5 grind behind. My husband and I set off for a life of living abroad and hopes to continue traveling the world, just 3 months after our wedding. It all started with the two of us, along with our cat, together in Thailand. Can't wait to see where life takes us next!