Huay Tung Tao Lake – Enjoy Chiang Mai Like a Local
Built originally as a reservoir, Huay Tung Toa Lake is a local attraction. Little known to foreigner tourists, but enjoyed daily by Thai locals, this peaceful place with its' wonderful natural beauty should be on your list of things to do in Chiang Mai. There's fishing, pedal boats, swimming, and even camping offered, but the best part is the 20+ restaurants with bungalows at the water's edge. Enjoying the day eating amazing Thai food and relaxing is a must do at this location!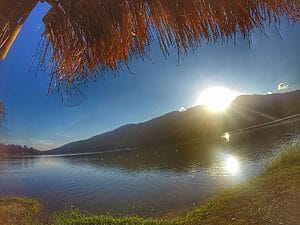 Need something to do in Chiang Mai where you can get away from all of the tourists? Looking for something that is a bit underrated when it comes to "top Chiang Mai attractions"?
There sure is no lack of things to do in Chiang Mai, but many of the activities and attractions are so popular (have you been to the Elephant Sanctuary?) that sometimes it's nice to have something to do where you feel more like a local. Spending the day or even just half a day at Huay Tung Tao Lake can give you a taste of the local Chiang Mai life. For anyone who is staying in the Old City, where most visitors tend to stay, it's a short and easy motorbike ride away.
Aside from the delicious Thai food offered around the lake at a bargain and the nominal park entrance fee, you're not going to need a whole lot of cash to have a great day by the lake. So, if you're stuck on what to do in Chiang Mai for the day (and you're on a low budget) head over to Huay Tung Tao Lake.
Now, this may not be the only lake in Chiang Mai, but it is the only one we know of. Given how close and easy it is to get to, it's the one we always tend to go to when we want to get out of the city.
Highlights of Huay Tung Tao Lake
Restaurants with lakeside bungalow seating
Playground for kids
Paddle boats for rent
Cafe
Massage Services
Picnic Areas
Feed the fish
Keep reading for all the details on this fantastic place…
How To Get To Huay Tung Tao Lake
Motorbike-Directions: Coming from the Old City, get onto Huay Kaew Road (which is on the north edge of The Moat) and head west toward Doi Suthep Mountain. You will pass the big Maya Mall on the right and make a right at the next intersection which is Canal Road (or Route 121). You will, then, drive about 6 Kilometers and you will see the sign for Huay Tung Tao Lake. Just a bit after that you will see a second sign for the lake and then a couple of white bridges (on your left). Turn left at the second bridge (we accidentally turned on the first bridge and were driving into a military area before we were stopped and guided towards the right direction, oops!)
Other Ways to Get There
Red Truck – around 500-600 THB round-trip and waiting
Tuk Tuk – guessing 600 each way with additional waiting cost
Uber or Grab – download either app (if you don't have it already). Rates vary, but there's usually some kind of discount code you might be able to use.

Cost Of Lake Entrance: Entrance to Huay Tung Tao Lake is a mere 50 THB (less than $2), and there are no additional parking charges or such.
What To Do At The Lake In Chiang Mai
Enjoy Lunch Lakeside
As I mentioned earlier in this article, there's some good food to be had at this lake. If you have read any of our other blog posts or ever watch any of our Snapchat or Instagram stories, it should come as no surprise to you that eating is one of our favorite things to do. Having said that, it's no wonder we love going to Huay Tung Tao Lake. Having lunch at the lake is the highlight of our visit.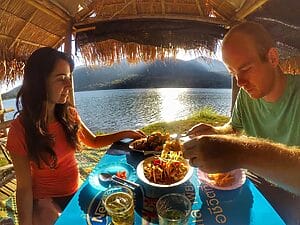 Cost of Food
For around 400 THB (just over $10 USD) you can have a nice meal for two. This cost includes a whole fried fish, papaya salad, rice and a couple of beers. And, you get to enjoy it in your private lakefront bungalow, with spectacular views of Doi Suthep.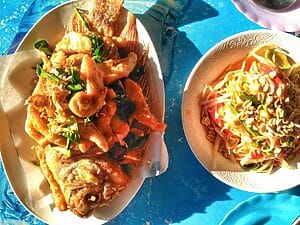 This is what I'm talking about, right here!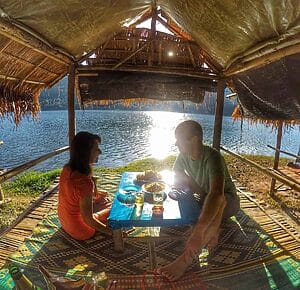 Go For A Swim
Swimming is allowed in designated areas of the lake. We've only seen a few kids go swimming each time we have visited this lake in Chiang Mai. That doesn't mean you shouldn't try it. Rob and a friend tried to play Frisbee in the lake once. It was a good time, but it didn't last.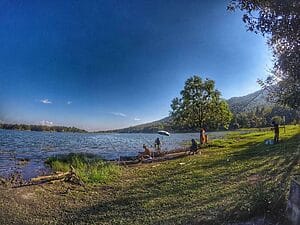 While the lake water was a bit cold, that wasn't really an issue. The problem was that there were lots of sharp rocks on the lake floor that made walking in the water a bit difficult. They ended up having a few scratches on their legs due to diving for the Frisbee. I'm not quite sure if this is the case for the entire swimming area of the lake or just the area near our bungalow that was rocky. Either way, swimming is doable, just be careful before you jump in.
Have A Picnic
If you don't really want to sit at the bungalows and eat at the restaurant, you can always bring a mat or blanket and have a picnic on the grassy areas. There are lots of locations around the lake that you can choose from. Typically, we've seen people on the grass area just at the very entrance of the lake. There are also other areas that I think would be great (and even less crowded) if you go left after entering the lake.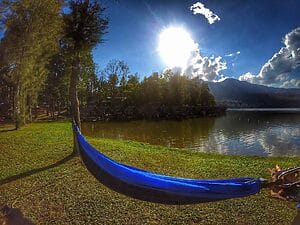 You can bring your own food and drinks to enjoy on the grass. There is also a cafe. It is located just after you enter the lake area from the ticket booth. You may even see a hammock in front of it by the lake, so keep that in mind for a nice place for to take a nap!
Enjoy Family Time With The Kids
At the very entrance of the lake area, you will find the playground. It's nicely located next to the cafe and parking lot, making it convenient for families to get to and get settled quickly. The playground is in good shape and has a good amount of fun stuff to offer. It's nice that the cafe is close by, so if the kids need a snack (or the parents need a coffee pick-me-up), you have some options.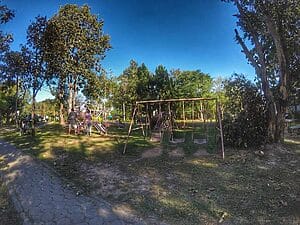 Feed The Fish
If you prefer to find a bench and stare out at the lake or read a book, we've got a great spot for you! There is a covered area directly opposite the lake from the bungalows. It's a circular gazebo-type area that goes out into the lake a bit. Sometimes, there is even some fish food in small bags that you can purchase here. Nobody is really there selling it. You just pick up a bag of fish food from the table there and leave the money (honor system, I guess).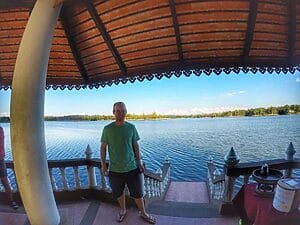 Want more ideas on what to do around Chiang Mai? Take a look at our article on visiting the San Kamphaeng Hot Springs.


Pin it!
About the Author
Hi! I'm just a California girl addicted to travel and adventure with a passion for art and dance on the side. Born in Iran, but I consider myself a citizen of Earth, adhering to the belief that "The world is but one country and mankind its citizen." I strive to make a positive impact on everyone I meet and learn as much as possible from them. My degree out of college is in Marketing. However, I entered the hospitality business at an early age and worked my way up to hotel management. After about 13 years in that industry (5 of which I was a hotel assistant manager), I made the decision to move to Thailand and leave the 9 to 5 grind behind. My husband and I set off for a life of living abroad and hopes to continue traveling the world, just 3 months after our wedding. It all started with the two of us, along with our cat, together in Thailand. Can't wait to see where life takes us next!