Catmosphere Cat Cafe – Chiang Mai
Anyone that knows me, knows I love cats! So, it goes without saying that even in Thailand, I can't stay away from them! I am so glad that, here in Thailand, they love cats as much as I do. There are lots of outdoor cats all around town and they seem to be well taken cared of.
It's nice to get to see kitties since I have had to leave mine back at home in the states. For a long time, before we left, I contemplated whether or not to bring Milton with us.
For a long while I was set on bringing him along. Apparently, all you need are the vet documents showing that all the vaccinations are up to date and a crate for the plane ride (with a ticket for the ride that is about $1000).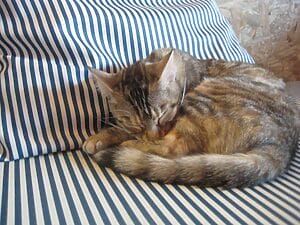 I realized that Milton would probably be more comfortable if he stayed behind, considering we would be traveling while away in Thailand and didn't want him alone in the apartment. Fortunately, my mom was kind enough to agree to take care of Milton for the time we were traveling.
So, until I see Milton again, I'll be making frequent visits to Catmosphere. This is a tiny little cafe near the Nimman area just off of Huay Kaew Road in Chiang Mai.
They have you take your shoes off before you enter as well as wash your hands and sanitize them. Once you have done that, you will have to wait at the entrance for one of the employees to open the door for you from the inside (as to ensure no sneaky little furball escapes). Once inside, there are a few short tables with cushions on the floor for you to choose from. The cats have a lot of "hangout" places consisting of a very tall cat tree and cubby holes, along with baskets and other beds for them to lounge in.
As cat people know, cats can have very different attitudes and personalities so it becomes clear right away who loves to play and who loves to lounge and snuggle. The cafe's website has all the cats listed as well as their personalities, so you can get to know them before going in.
Here's a sample of the fun we had at the cat cafe:
About the Author
Hi! I'm just a California girl addicted to travel and adventure with a passion for art and dance on the side. Born in Iran, but I consider myself a citizen of Earth, adhering to the belief that "The world is but one country and mankind its citizen." I strive to make a positive impact on everyone I meet and learn as much as possible from them. My degree out of college is in Marketing. However, I entered the hospitality business at an early age and worked my way up to hotel management. After about 13 years in that industry (5 of which I was a hotel assistant manager), I made the decision to move to Thailand and leave the 9 to 5 grind behind. My husband and I set off for a life of living abroad and hopes to continue traveling the world, just 3 months after our wedding. It all started with the two of us, along with our cat, together in Thailand. Can't wait to see where life takes us next!