Who Else Wants To Eat The Best Dessert In Chiang Mai?
Did someone say "Where's the best dessert in Chiang Mai?" Well, I know that was one of the first questions I had when we first moved here! While I don't mind Thai desserts such as mango with sticky rice and the plethora of sugary iced beverages here, some of the other desserts just taste too much like meals because they have corn or beans. Sometimes I just want a good ol' pastry. The kind I would get back home. So I set out to do some "research" on finding the most awesome places to have dessert in this North Thailand town of Chiang Mai.
I learned how to spell dessert correctly thanks to someone telling me that it has two "s's" because you always want seconds. Yes, I do. I will never mistakenly spell it as "desert" because of that tip sticking in my head (and how I can never get enough of sweets). If you're like me and you find yourself in Chiang Mai, have no fear, I've put together a nice list of the very best dessert spots for you to eat your way through, if you so choose.
It's no secret to those who know me, that my love for dessert is eternal. My whole family is nuts about sweets. Now, I've even turned a man (my husband, Rob) who hated the idea of dessert to one who orders tiramisu after dinner and has more chocolate cravings than myself.
So here you are. Try any, or all, of these spots to satisfy your sweet tooth. You're welcome!
Dessert In Chiang Mai – 5 Of Our Favorite Places
Dhara Dhevi Cake Shop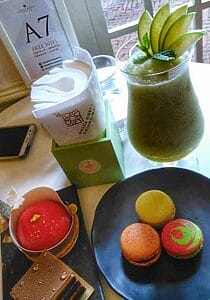 I have one word for you: Macrons! This place has the absolute best macrons I've ever had! Seriously, you just can't go wrong with any of the flavors. And, yes, they offer a huge variety of flavors.
I would not hesitate to say that this is probably our top choice for dessert in Chiang Mai. If we had to pick ounly one place it would be the Dhara Dhevi Cake Shop.
Located within the Kad Dhara Shopping Village, next to the famous Dhara Dhevi Luxury Hotel, this dessert shop delivers the same high standards and quality as the spa and hotel it shares the parking lot with. Not only is the service here top notch, but the treats are also well worth the higher price tag.
Offering a huge selection of delightful sweets and drinks, you'll be able to find virtually anything you crave. You might also be delightfully surprised if you try one of their unique creations like the apple mint shake.
If you love tea time, this Victorian style tea salon offers Afternoon Tea for two at a very reasonable price. So grab a friend and go enjoy some "girl time" at this place. Or, better yet, book a spa treatment and top it off with a sweet macron for a nice little "daycation" in Chiang Mai.
D-Bistro by Deck 1
The Walking Street may be famous for it's massive Sunday Market, but strolling this street during the day can also be a fun thing to do for those visiting Chiang Mai. Aside from more shopping and, of course, massage places, you'll walk by a unique building where you can find a very chic cafe called D-Bistro.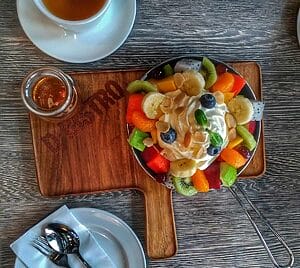 Upon entering you'll find the pastry display and cashier that can help you purchase these yummy treats for take-away. We recommend dining in. The hostess will direct you to the back part of the cafe where you'll be seated in a more peaceful atmosphere, away from the hustle and bustle of all of the tourists on the Walking street.
As you walk to the back, you'll go through a small courtyard with seating outside next to a waterfall and garden. It's a great place to relax if the weather is not extremely hot. For those who want to get out of the heat, the inside seating faces this peaceful outdoor area framed by large windows. You'll still be able to enjoy the relaxing view from the air conditioned interior that is also beautiful designed.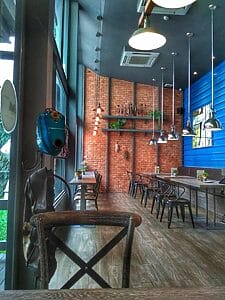 The teas come in a teapot, so you'll be able to enjoy sip after sip while staring out or taking advantage of the free WiFi to connect on your phone. There are lots of delicious and unique desserts to choose from their menu. They also have pies! The ices beverages are an additional delight for those who prefer to quench their thirst and still satisfy their sweet tooth.
Our recommendation would be the fruit topped pancake. I know, you're probably thinking that sounds more like breakfast, right? Well, in Thailand, pancakes, waffles, and toast seem to be considered more as dessert than breakfast. You"l notice that most cafes offer these items to go with your hot or cold caffeinated beverages.
The two pancakes are topped so full of fruit that you can't even see them in the cute little pan they are served in. There's plenty of whipped cream on top and you also get some honey on the side to "sweeten the deal" even more! Its a great dessert to share with someone else and wash down with some hot jasmine green tea.
Cheevit Cheeva
Ever heard of the Korean dessert called "Pad Bingsu"? This popular treat is sometimes it's just referred to as Bingsu and consist mainly of shaved ice. The original dessert had just shaved ice with red bean paste. There are now several versions that also contain condensed milk, sweet toppings, and chunks of fruit.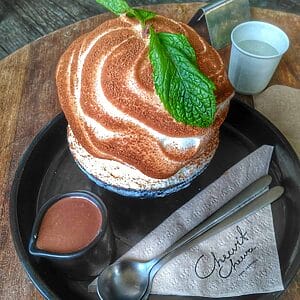 Located in the hip Nimman neighborhood on the western side of Chiang Mai, Cheevit Cheeva, is a tiny place that is almost always full. And rightfully so. They don't have a huge menu, but the Bingsu here is pretty amazing!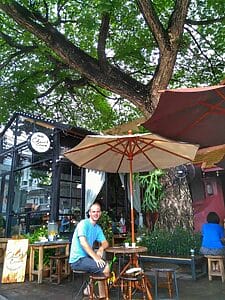 We've tried both the melon and chocolate versions and loved both. Well maybe the chocolate one was more up our ally. Anyway, the bowl of shaved ice/milk is huge so you might want to go with several other people. It was way too much even for the two of us.
This is THE BEST dessert during the super hot months of April and May, here in Chiang Mai.
Their outside seating is perfect since the cafe itself is pretty small. Outside, you'll enjoy the shade of an enormous tree that is also lit up during the evening. The vibe is one of fun and socialization with friends and family. You can take your time getting through this big bowl of deliciousness and enjoy some people watching with an occasional gecko spotting.
iBerry
One of our all time favorite places for dessert with friends and family (or just the two of us), iBerry, has great ice cream with an awesome outdoor garden. This place is a bit of a theme park in some ways. It's an enclosed area and not really noticeable from the small ally that it's located on. You may see the iBerry signs around the Nimman neighborhood, but just walking by, you might miss this cool place.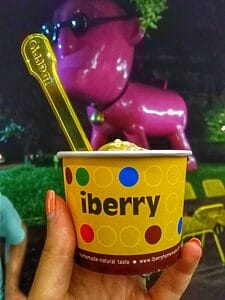 As you enter the garden, you'll be greeted by a huge pink structure with the body of a dog and the head of a man. I know that seams strange (it sounds weird when it's written out like this), but it's a fun mascot that attracts tons of people to this place.
You'll notice people having fun posing with this giant pink statue as well as other funny props around the garden. It's a great place to go during the evening as the garden and trees are all lighted, creating a nice ambiance.
There's also a hammock for those that want to chill out under the cool shade of the tree after they have their ice cream.
Mango Tango
You guessed it! This place is all about mango. You can get mango smoothies, mango pudding, mango ice cream, and, of course, mango with sticky rice. The whole menu is mango themed, so if you love mangoes, you'll absolutely love this place.
It's a small shop with very limited seating and it can get very, very busy at times. Depending on when you go, there may be a long wait to get your mango fix. Mango Tango's popularity can be traced to it's yummy menu options as well as the cute mango mascot statue they have at their front door. You just can't miss this place if you're walking around in the Nimman Neighborhood.
Of course, some of the best tasting mangoes are found in Thailand and since they are grown year round, you'll be able to enjoy a wonderful mango-infused dessert whenever you visit Chiang Mai.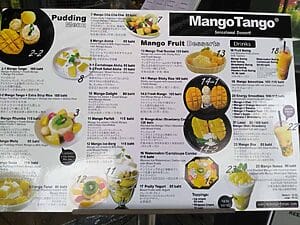 About the Author
Hi! I'm just a California girl addicted to travel and adventure with a passion for art and dance on the side. Born in Iran, but I consider myself a citizen of Earth, adhering to the belief that "The world is but one country and mankind its citizen." I strive to make a positive impact on everyone I meet and learn as much as possible from them. My degree out of college is in Marketing. However, I entered the hospitality business at an early age and worked my way up to hotel management. After about 13 years in that industry (5 of which I was a hotel assistant manager), I made the decision to move to Thailand and leave the 9 to 5 grind behind. My husband and I set off for a life of living abroad and hopes to continue traveling the world, just 3 months after our wedding. It all started with the two of us, along with our cat, together in Thailand. Can't wait to see where life takes us next!